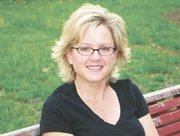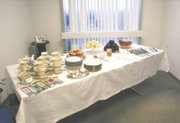 Tea events are no longer pinky-fingered affairs reserved for the British gentry. Kimberly McDonald, owner of To a Tea, LLC, makes tea events an approachable and enjoyable affair to all.
"[Tea events] used to be something you would think was for older ladies who wanted to be pampered. Now, people of all different ages want that kind of venue in all different settings," said McDonald.
McDonald's repertoire of events includes bridal showers, birthdays, retirements, anniversaries, as well as business meetings. She also offers princess tea parties for the youngest tea drinkers.
Her expertise, however, is not limited to event planning. Her years of experience baking in the kitchen allow her to showcase her desserts and baked goods as well as the tea service. McDonald was also the catering director at the Bailiwick Inn in Fairfax before she decided to use her combined experiences to start To A Tea, LLC and promote a new way to entertain.
"I think that people are looking for more than just going out to lunch. Tea relaxes you and inspires conversation. At the same time, the idea of being served tea and scones makes it an elegant type of venue," said McDonald.
"'Taking tea' began many years ago with the English, but afternoon and high teas have become especially popular in the states," said McDonald.
"I've always enjoyed entertaining and planning events, and I love working with clients from start to finish to make their event special," said McDonald. "Of all the types of events that I have planned, teas are the most special. I think that people are looking for more than just going out to lunch. Tea relaxes you and inspires conversation."
From the baking, to the linens and china, McDonald promises to work with each host in planning a theme, selecting a menu, and setting up. The result is an elegant tea experience that will impress friends, family, and co-workers without the stress. "I provide everything," said McDonald.
MCDONALD BEGINS by offering her clients a variety of loose teas and finger foods. She offers "Four Exquisite Teas" including Breakfast, Afternoon, Cream and Dessert Tea. Though scones with clotted cream and fruit preserves are included in all the tea events, the menu also features an extensive array of choices. "For breakfast teas, a client could choose from a variety of muffins. For an afternoon tea, they can choose from different finger sandwiches. There are also choices among the desserts that I offer," said McDonald.
Among the petite sandwich offerings are the "Blue Cheese, Walnut, and Pear" and "Egg Salad with Dill on Mini Corn Muffins." A few of the sweets offerings include "Stuffed Strawberries," "Coconut Macadamia Chunk Cookies," and "Chocolate Hazelnut Tarts." Muffin choices include "Pumpkin Cream Cheese" and "Cherry Ricotta."
A typical tea event would feature the tea and sandwiches or desserts buffet-style at one end. "People would come around, choose what kind of loose tea they want, and I would serve it to them. I also walk them through the process of eating a scone the traditional way with jam and clotted cream," said McDonald.
Dannette Wolfe, a Chantilly resident for over 20 years, is a loyal fan of McDonald's cakes — especially her specialty cheesecakes. "[Her cakes] are amazing. She's just got a gift. Every time I have taken them to any function or given it as a gift, family and co-workers have fought with each other over the last bite," said Wolfe.
Wolfe has also enjoyed many of McDonald's tea services. "It's really comfortable. You don't feel like you're in a stuffy atmosphere. Other places that I've gone have been very stuffy, prim and proper. She listens really well about what you want," said Wolfe.
Carol Khalsa has also used McDonald's tea and dessert services for numerous business-meetings. "Kimberly creates such memorable events. The presentation is impeccable and the desserts are absolutely delectable," said Khalsa.
McDonald adds a personal touch to her services that extends beyond tea events. "Last Thanksgiving, I had Kimberly make individual pumpkin cheesecakes and had her hand-deliver them to different patients of ours. The cakes were beyond delicious and boxed beautifully. Everyone loved it because they were so unique," said Khalsa.