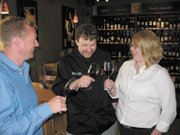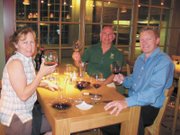 The newly revitalized City of Fairfax has a new level of sophistication with the opening of the Wine House at Old Town Village on North Street. The wine-tasting room and restaurant offers 500 hand-selected wines from around the world — from $10 to $100 per bottle — paired with a light European menu.
An instant hit when it opened April 20, the restaurant now has a two-hour wait on the weekends. "The focus is on the hand-selected wines that we promote that you don't find in mainstream supermarkets," said owner Michael Pearce, 37, originally from New Zealand. The wine comes from every major wine country — France, Spain, South America, Argentina, even Uruguay.
Customers sit at high wooden tables in a casual atmosphere sipping $6 glasses of reds or whites. A sampling of bottled wines at retail prices include Palomero at $119.99 from Spain; Frogmore Creek from Australia/New Zealand for $32.99; Williamsburg Viognier from Virginia at $23.99; and Blacksberg Pumphouse Shiraz from South Africa for $23.99.
PEARCE HAS 20 YEARS in the wine business; he owned his own restaurant in New Zealand and was the beverage manager on a cruise ship where he oversaw the wine service and ran the bars. He also worked in wineries in New Zealand and worked in the Napa Valley for two years. His runs the Wine House with wife Jackie.
"We wanted to make wine an experience, so this place was designed to look like the inside of a cellar," said wine director Jennifer Rogaliner, 24. "So everything we do here is to enhance your enjoyment of wine."
The staff offers a decanting service, a chilling service and a table service.
"We're trying to take the pretence away from wine as it's meant to be enjoyed ... It's a little bit of education and lots of fun," said Rogaliner.
"Instead of going for the big brands, we look for other brands that are not so well known," said Rogaliner, who graduated from the International Culinary Institute of Baltimore. "The selection we have we feel is the best representation of what's available for each wine growing region …There are wines that are out there that are a good value for the money."
The sommelier and chefs have worked together to create a four-course evening tasting menu this summer that pairs wines with seasonal foods. For example, the Domaine Pabiot Single Vineyard ($8/glass) goes nicely with the artisanal four cheese sampler with crisps for $13.
For the second course, the Coteaux d'Aix en Provence 2006 ($9/glass) is paired with midsummer heirloom tomato salad with basil puree and fresh mozzarella for $12. The third course includes Celler Cecilio Negre ($10/glass) with wild mushroom risotto with leeks, basil puree and citrus creme fraiche for $15. The fourth course offers Paolo Scavino Rosso de Tavola ($12/glass) paired with pan-seared jumbo sea scallops with wine house beurre blanc sauce, Yukon gold potatoes and braised greens for $19.
"Our menu reflects the seasonable bounty of what's going on right now," said executive chef Kenneth C. Hughes, who was trained in California French and Napa Valley cooking. "The sea scallops are nice right now. The heirloom tomatoes are very nice. Those are seasonable delights."
With menu and the wine pairings, he says he takes into consideration the fruit and flavor profiles as well as the acidity of the wines. "We try to have a complimentary experience. We try to put it together as best as possible so it's a dynamic, complimentary thing."
PEARCE SAYS they rotate the food whenever the mood strikes. "Whenever the chef sees something really exciting, they'll pair up with a wine. We just like good tasty food, and we like sharing different things."
"We're trying to move into a tasting room-type of experience," said Rogaliner. "To be more adventurous to try more smaller types of plates. We're not really a restaurant. I see us as a tasting room."
Hughes says his regular customers appreciate high-quality dining in Fairfax. "A lot of regulars really appreciate what we're doing. When it's done correctly and things fall into place, it's very gratifying to us. It's exciting to see how it's unfolded," said Hughes.
"The food definitely fits the season. It's perfect for tonight," said customer Lisa Ariail of Fairfax, who ordered the heirloom tomato salad.
Regulars Linda and Michael Armellino of Fairfax enjoyed the Craggy Range Pinot from New Zealand and the Cyclo Christina from Spain with owner Pearce on Sunday.
"The wine's fabulous. It is the best place to come in the metro area," said Linda Armellino. "My husband owns a restaurant in Old Town Alexandria, Bilbo Baggins, and we come here to unwind, enjoy good food and great friendships."
Adds husband Michael Armellino: "It's very personalized service."
"I think it also helps to bring the community together," said customer Kelly Suh of Fairfax. "Because you have a lot of different options. It attracts different kinds of people all in the same place."
To remove the intimidation of wine, The Wine House operates as a school in an informal setting. "You come in, you ask a question. We give you a simple answer. It's very informal," said Rogaliner. "We're just trying to enhance people's enjoyment of it."
Pearce is thrilled to have opened in the revitalized downtown area. "The people of Fairfax have welcomed us with open arms. Every day we have compliments about bringing this business model to Fairfax." He said local customers are well-traveled and know what they like. "When they come in, they ask questions and trust us to be able to make the right selections."
THE WINE HOUSE offers free wine tastings with the focus on international wines. Wine is served in glassware on Saturdays from 2-4 p.m. "I spend most of my time with my vendors and there are some wines that you taste that are so beautiful," said Rogaliner. "There's not a dog in the house."
The Wine House offers two wine clubs, private wine-tastings, special events and private dinners with like-minded wine connoisseurs.
"We have people who come from all levels of knowledge of wine," says Rogaliner. "It's people who love wine. They somehow got a taste of it and they love it. They want to know more. They want to have fun."
There's the free-to-join Executive Wine Club for $50 per shipment. Members receive two wines a month that have been vetted by the staff with fact sheets and tasting notes.
The Epicurean Club is $150 per shipment and members receive three wines, with special gourmet products shipped intermittently as well as fact sheets and tasting notes.
"We're trying to create a culture that extends value wine, good food, and a good experience to a core group of members that enjoy nice things," said Pearce.
"We select the best from the best — as opposed to taking a gamble from the supermarket. It comes highly recommended."