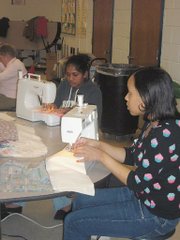 Reston and Herndon often welcome new people and businesses to the area, but some longtime residents warn against calling it transient.
"It is a wrong impression to believe that the Reston-Herndon area is very transient," said Linda Strup, a 20-plus year Reston resident. She said "long-term" neighborhoods and traditions are established in the area.
One of the traditions that has taken root and sprouted here is community involvement, especially in terms of helping less fortunate neighbors stand on their feet. "I think this area has always been very community-oriented," said Strup, a founding member of the Giving Circle of HOPE, a philanthropic organization that raises funds and redistributes them to Northern Virginia nonprofits through grants. "There are so many great nonprofits in this area that do so many wonderful things," she said.
Those nonprofits are always looking for new members. "If anyone has time on their hands, there are so many ways to get involved," said Marcia Di Trapani, the president of Herndon-Reston FISH (Friendly Instant Sympathetic Help).
RESTON INTERFAITH is one of the area's largest nonprofit organizations and Amanda Andere, the organization's vice president of external affairs, said all of its programs are in need of volunteers. The number of organization's clients continues to grow as the economy continues to slump. "The food pantry is definitely seeing more people," said Andere. "Everyone is cutting back on their expenses, but their [the food pantry clients'] basic needs are not being met," she said.
"We have seen an increase in patients," said Meagan Ulrich, the executive director of the Herndon-based Jeanie Schmidt Free Clinic that serves low-income people in the western portion of Fairfax County. She said a few people who moved to the area from the Carolinas thinking it would be easier to find work in Northern Virginia have registered in the clinic in recent months. Other new patients are established local residents. "Some of them are newly poor, facing the mortgage crunch," she said.
Another trend Ulrich has noticed since the economic downturn is that companies are underinsuring employees, cutting out benefits such as prescription coverage, forcing more patients into the free clinic. "We're definitely seeing that," she said. Ulrich said the tougher economic times have prompted more people to action in the free clinic, which has seen an increase in volunteers. "We really have had a tremendous response," she said. "It says a lot for the community." However, the clinic is always looking for more volunteers.
While some of the clinic's volunteers are medical professionals, Ulrich said there are needs for people with other skills as well, for example translators and those who could help complete paperwork. "We try to respect volunteers in terms of giving them work to do," she said.
Andere said Reston Interfaith is also seeking new volunteers.
"We definitely are always looking to engage people in our mission," she said. Andere added that the best way to get involved in the community is to become aware, not just of volunteer opportunities, but also of the issues the community faces. The organization is hoping to recruit clients with legal and housing issues knowledge as it is getting ever more involved in helping people in mortgage crisis.
THE LOCAL ORGANIZATIONS often cooperate, sharing volunteers and helping one another identify clients. They also partner to provide programs and events in the community. Reston Interfaith is currently seeking volunteers for the Back To School Drive it conducts with KidsRFirst, another organization serving the Reston and Herndon area. Giving Circle of HOPE has awarded grants to the Jeanie Schmidt Free Clinic and Herndon-Reston FISH in recent years and has partnered with Reston Interfaith to provide programs at the Embry Rucker Community Shelter for homeless individuals and families in Reston.
The Giving Circle is always looking for new members, said Strup, because more members means more funds, rendering the organization better able to help other nonprofits. "We try to make it really easy for people to plug in," said Strup.
Involvement, said Di Trapani, does not have to be through a nonprofit organization or a church helping support others. She said there are plenty of clubs in the area that would love to increase their memberships, including running, biking and hiking area clubs.
Increased membership does not only benefit the clubs and the nonprofits, but also those new members, said Di Trapani. "There is so much to do in this area, nobody should ever be without friends," she said.
For those who would like to get involved with Herndon-Reston FISH, Di Trapani said the organization's thrift shop in Herndon, the Bargain Loft, offers an opportunity to help make a difference and form friendships. "Come volunteer at the Bargain Loft, you'll meet a lot of people. We have fun there," she said.