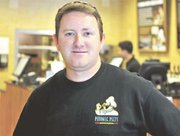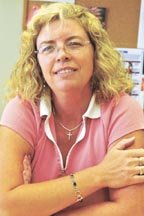 When Adam Greenberg was growing up in Bethesda, Potomac was different world. In 1994, he opened up his ice cream business in Potomac and witnessed the changes in that different world.
"Potomac was a horse country," said Greenberg. "Not at all what is it today, though we still have that country look."
Greenberg is the president of Potomac's Chamber of Commerce, a position he has held in years past. His involvement with the chamber dates back to 1994, when he opened up his ice cream shop, The Cone Zone.
"I began meeting lots of people and was invited to join the board," said Greenberg. "I've been the treasurer and the president a few times."
Greenberg also earned businessperson of the year for his work with the Cone Zone and Potomac Pizza, which nestles in the Potomac Village.
Potomac's atmosphere of maintaining a limited-sized village center and staying close to its horse country roots are aspects that Greenberg says make it a great place to live.
"It's a great place to live and raise a family," Greenberg said. "It's a small community and the people who live here are great."
Great Falls Park is a landmark that is a great treasure according to Greenberg, saying it is a place where all should witness its beauty.
Currently, Greenberg is planning for Potomac Day, the largest festival in Potomac which includes a parade, festival, business fair, car show, and 5-kilometer road race, all free to the public. Greenberg works along side the chamber's secretary, Jennifer Matheson.
"Jennifer is a very dynamic person," said Greenberg. "Planning Potomac Day takes a lot of work, and she does a great job in doing it."
Matheson's dedication to the board is evident through her hour and a half drive each morning. She now lives in Charles Town, W.Va., and needs to leave even earlier when schools are in session.
"I enjoy the chamber, even with the drive," Matheson said. "It's very casual, and the people are great."
Potomac Day is the chamber's largest project of the year, but Matheson works on other projects as well. Each month, she sends out welcome letters as well as promotional coupons and advertisements from local businesses to new residents. There are about 20 to 30 packages sent out each month.
"Potomac is a quiet, friendly, family community," said Matheson. "It is definitely a great place to live."
For more information on the Chamber of Commerce and Potomac day, visit http://www.potomacchamber.org.