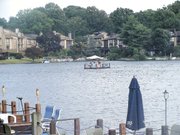 <b>Revisiting Reston's Plan</b>
The plan that guided Reston's development has received international praise since its creation in the 1960s. A planned community from its inception, Reston is studied in international universities for its original plan, its implementation and the founder, Robert E. Simon — RESton.
However, as Reston celebrates its 44th birthday, community leaders and activists are in the process of establishing a method to study the current plan and make adjustments that will guide Reston's development for the foreseeable future. Fairfax County Supervisor Catherine Hudgins (D-Hunter Mill) told a group of Reston residents in May that she would convene a task force to study the plan. County planners are currently meeting with Reston citizen groups to determine their views on the subject.
<b>Lake Anne Revitalization</b>
Numerous studies have been completed to determine what level of development is necessary or wanted to help restore the economic wellbeing of merchants at Lake Anne Village Center. However, there is hardly consensus on the issue in the community. Between the residents who want more dense development and those who want more moderate development are county planners. Fairfax County had scheduled public hearings on proposals developed by a consultant in the summer of 2007, but citizen involvement delayed those hearings and pushed the planners to consider other alternatives. The hearings have not been rescheduled yet, but planners are working on the details and completing studies necessary to understand the terrain, such as transportation and parking studies.
<b>Aging Community</b>
Much of Reston's infrastructure was built in the community's first two decades of existence and some community organizations are looking into their budgets to prioritize renovation needs. From pathways and sidewalks, to roads, lakes, swimming pools and tennis courts, infrastructure in the community faces possibilities of deterioration without intervention.
<b>Building New Recreation Opportunities</b>
Community activists have long advocated for certain recreational facilities to be built in Reston. They include a skateboard park, indoor tennis and other indoor recreation space. Tennis, in particular, has a huge following in the community and Reston Association (RA) is in the process of examining proposals for an indoor tennis facility. A likely area for the facility is Brown's Chapel Park, located off of Baron Cameron Avenue.
<b>Metro Coming?</b>
As of now, the metro extension project to Dulles Airport is on its way. Reston will house two of the extension's stations, both in the median of the Airport Access Road, one west of Wiehle Avenue and one west of Reston Parkway. If it holds up, the extension will encourage development of thousands of residential units coupled with construction of office buildings. Two things stand in the way of those plans coming true: the current zoning along the Dulles Toll Road and citizens opposed to high levels of development without accompanying improvements to the community's roads and transportation systems.
<b>Encouraging Bus Use</b>
If one of the goals of bringing metro to Reston is to reduce commuter car trips, the bus service in and around the community will need improvements. Fairfax County is undergoing a bus transit study to determine best practices and routes for the Fairfax Connector and other services that operate in the area. In the meantime, the Reston community is also examining its internal system RIBS to improve that service. Recent ridership numbers have been record-breaking, which is not saying much, thanks in large part to rising gas prices.
<b>Preserving Affordable Housing</b>
Along with its strong tradition of support to the area nonprofits, Reston residents have historically been advocates of preserving and increasing the affordable housing stock in the community. As Reston continues to grow, affordable housing advocates are voicing hope that new residential developments incorporate affordable units into their projects, instead of setting aside funds to build those units elsewhere.
<b>School Boundaries</b>
Fairfax County Public Schools concluded a study during the past year on how to balance enrollment in the schools in the western portion of the county. The School Board voted to increase enrollment in Reston's South Lakes High School by moving students from areas of Herndon that attend Westfield and Oakton high schools. The boundary study has been a subject of much controversy in the community and while the implementation of the decision is due to go ahead in September, a group of parents is taking the school system to the court.
<b>Lighting Reston's Streets</b>
Few streetlights exist in much of southern Reston. Over the years, residents had expressed a wish to keep Reston dark in order to prevent light pollution and from appearing to be a strip mall. However, some residents are expressing concerns that the darkness invites criminal activity and are hoping to see more lights installed near their residences. Supervisor Catherine Hudgins (D-Hunter Mill) is establishing a community task force to study Reston's lighting and to make recommendations on how to proceed.