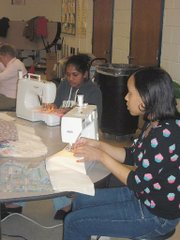 Southgate Community Center reopened in Reston in 2006 promising to offer services and programs to residents in the Glade Drive corridor of Reston and beyond. LaShawn Timmons, 39, came to Reston to lead the efforts of the center, renovated and reopened in the spirit of community cooperation.
Southgate Community Center now offers programs for children, teens and adults, including Spark, a program for adults with disabilities, and Stroller Fit, a mom and child exercise class. "Our major focus is prevention," said Timmons, adding that some of the programs for children emphasize dangers of bullying and advocate nutrition and health.
Prior to taking charge at Southgate, Timmons gained experience working in the City of Alexandria's Department of Parks and Cultural Activities and managing swimming pools in Northern Virginia neighborhoods. She went to work at the Community and Recreation Services in Fairfax County and rose through the ranks before taking on her current duties.
Timmons is happy to be in Reston. "I love the diversity," she said, adding that she has also found a new hidden treasure, Reston Association's Walker Nature Education Center. She encourages all newcomers to Reston to explore the community because they may be surprised with its offerings. "There is a lot here, you just have to go and find it," she said. "Ask questions. Get out and explore."
Timmons said whatever the person's passion or interest might be, chances are that Southgate Community Center, Reston Community Center or Reston Association have a program that fulfills that interest. And if not, she said, she would love to hear from Reston's residents about what programs they seek, programs that could then be implemented. "We're looking for input from the community," said Timmons. "If someone is looking for something specific, let us know."