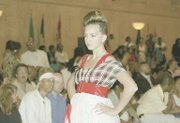 Brenna Dolan is a rising ninth grade student who has walked the hallways every day at Robinson Secondary School in Fairfax. However, On Aug. 12-15, Dolan walked the runway at the inaugural Baltimore's Fashion Week. The event took place at the War Memorial Building in Baltimore, Md., and featured the newest designs of nine Baltimore's designers.
Brenna is a graduate of Barbizon Modeling School and is represented by L&M Modeling, but she is also experienced in the pageant arena. She first became involved in pageants at age 9, when she received some mail about the National American Miss pageant.
"At first, my mom and I laughed about it, but we realized that it wasn't a beauty pageant. It was a scholarship pageant based on poise, confidence and most of all, the interview," wrote Brenna in an e-mail to The Connection. She has been a resident of the Kings Park neighborhood in Fairfax for 12 years.
<b>What is your most memorable pageant-memory to date?
</b>My most memorable memory was when I was crowned Miss Virginia Jr. Pre-Teen 2003. I remember standing on the stage with bubbles floating from the ceiling and tears steaming down my face while I was being crowned. I love watching the video of me walking forward completely stunned that I had won.
<b>How were you able to participate in Baltimore's Fashion Week?
</b>My agent sent me an e-mail about an audition for fashion week back in November, and I was immediately interested.
<b>What was your favorite aspect about being a part of Fashion Week?
</b>There is no comparison for the feeling I get when I'm walking the runway in front of hundreds of people. You don't even see the audience because you're so focused on not tripping and just showing off the garment you're modeling. It's so thrilling, and I can't wait to get back up there.
<b>Did the even present any challenges?
</b>The only challenge was driving to Baltimore almost every weekend for fittings and rehearsals. I had to miss many swim meets and the first week of volleyball practice.
<b>Favorite outfit you modeled for Fashion Week?
</b>My favorite outfit was a dress made by LT Dickens. It was a gorgeous gold strapless dress with a low-waisted bubble skirt.
<b>Do you see yourself pursuing modeling as a career?
</b>Yes. I hope to sign with Elite model management or Ford models and possibly go international. "America's Next Top Model" is also an option. Modeling is my passion, and no matter what I will try to pursue my dream.
<b>Hobbies and extracurricular activities?
</b>I've been delivering the Fairfax Connection for a year now, following after my two older brothers. I play volleyball for my school on the freshman team. I take ballet, tap and pointe classes and swim during the summer. I also enjoy doing community service, being a Girl Scout and swing dancing for fun.
<b>Favorite subject in school?
</b>I am really looking forward to taking art this year, but math has always been an enjoyable subject for me.
<b>Who serves as your biggest role model or source of inspiration?
</b>My parents have always been there for me for support and encouragement, but all the women in my neighborhood have helped me so much throughout my life. They inspire me to go after my dreams and to never change who I am.
<b>Favorite local restaurant?
</b>I love the Japanese restaurant Fortune House in Burke. They have the best sushi.