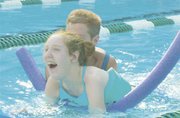 On Monday, July 21, Katie Schmehl of Falls Church realized her long-time dream of swimming with the Sleepy Hollow Swim Team. She swam in a B meet at the Forrest Hollow pool.
Katie, 14, has physical disabilities, is non-verbal and has balance and mobility issues. She also has moderate to severe intellectual disabilities.
Katie's 12-year-old sister Tori swims for Sleepy Hollow Recreation Association every summer. For years, Katie has watched Tori go to practice twice a week and participate in the meets and has always hoped to join her sister on the team.
"Katie wants to do everything her sister does," said Tricia Schmehl, the girls' mother. "She has been really pushing this for the past three to four years."
Katie first competed on the Friday before the meet at Forrest Hollow. The team was having a reverse meet, where the parents swam while the children played the role of the parents and coaches. Katie was asked if she wanted to swim as well. As a result, Katie's first competition was against adults.
Katie was then asked if she wanted to swim at the meet on the following Monday, and she indicated that she did.
On Monday, Katie's dream became a reality as the swim coaches, parent representatives and other members of the teams all helped to allow her to participate in the meet.
"Not only did they help us put her in, but they also rallied and really encouraged her," said Tricia Schmehl. She described how the cheers erupted as Katie was lifted out of the pool.
"This really improved and expanded her relationship with the kids at the pool," said Tricia Schmehl. She described how the experience allowed the children to see that Katie was not so different and that she could do the same things that they could.
Following the meet, Katie was presented with an award at the award ceremony for the team. "The parents and kids went nuts clapping. It was really overwhelming to see the support," said Tricia Schmehl. "Katie was so shocked, she had a big smile on her face."
"It was the highlight of the summer for us," Tricia Schmehl said. "My husband and I are still talking about it.