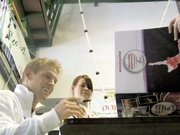 In the past four months, Lake Braddock graduate Justin Spring has traveled to Beijing, winning a bronze medal with the U.S. Men's Gymnastics team, canvassed the country on the 2008 Tour of Gymnastics Superstars and even made an October stop at Capital Gymnastics in Burke.
It was a whirlwind chain of events that often left Spring exhausted, nowhere near his new home in Champaign, Ill. and hundreds of miles away from his girlfriend of nearly five years, Tori Tanney.
Oh, how times have changed.
Spring was back in town over the holiday weekend, helping out at the Northern Virginia Gymnastics Academy's youth clinic on Friday, Nov. 28, but his bronze medal wasn't the only piece of decorative jewelry that made the trip.
When the gymnastics tour performed at the University of Illinois Assembly Hall on Nov. 5, Spring proposed onstage to Tanney.
"I set up this whole elaborate thing at the show, and she had no idea it was coming," said Spring, who like Tanney, graduated from the University of Illinois. "We put her in the front row, and in between one of the acts I came out, said my piece and it worked out perfectly."
Tanney accompanied Spring to NVGA last Friday, watching her fiancée help flip, coach and encourage children at the Sterling gym.
The group of 20 to 30 students participated in an all-day camp with Spring, breaking for lunch and the chance to ask the Olympian a few questions and later snag an autographed
photograph.
"It was different because he's homegrown," said NVGA owner Mike Comini. "We've had 30 to 40 Olympians here, but I think this is the first one from Virginia. It always makes it real for the kids to actually meet an Olympian."
<b>PRIOR TO</b> the question-and-answer session, a television played Spring's high bar routine from Beijing. Despite the 24/7 coverage of the Games, Spring hasn't seen his routines much.
"I totally got chills running up and down my spine," Spring said. "That's a moment that I will always remember."
Although he plans to compete in the 2012 London Games, Spring's life has slowed considerably since August, when he and his teammates surprised most of the world with a third-place finish in Beijing.
He's been working as an assistant coach for the Illinois men's gymnastics team, where he was a 12-time All-American and named the 2006 Big Ten Gymnast of the Year as a senior.
The engaged couple has yet to set a wedding date but Spring admitted that it's probably not too far away.
"We're meeting with the wedding planner on Friday," said Spring.