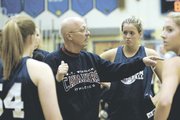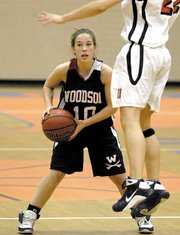 To say the W.T. Woodson girls basketball team has four rather large shoes to fill would ring true both in a literal and figurative sense. The Cavaliers lost two of their leading scorers from a season ago, which works out to just about half of the team's offensive production.
Five-foot-10 forward Ashley Thompson averaged 8.6 points per game while teammate and good friend, 6-foot-3 center Sarah Schoof, contributed 17 points and nine rebounds per night.
"We would love to have them both back, but there was a great excitement after last season and an eagerness to get started again," said fourth-year coach Pat Neri, whose squad finished 20-8 last season and lost to Heritage in the Virginia AAA quarterfinals.
With Schoof now playing at Iona College and Thompson attending Lynchburg, a strong backcourt and a well-groomed center will provide the keys to whether or not W.T. Woodson can repeat last year's run.
Annie Griffin, a 6-foot-3 center who worked alongside Schoof last winter, appears ready for a breakout season. A co-captain with her frontcourt mate last year, Griffin was voted unanimously as the Cavaliers' on-court leader this season.
<b>THIS OFF-SEASON</b>, Griffin worked to improve her physicality and even signed a letter of intent to play basketball at Division II Stonehill College outside of Boston, Mass.
"It was fun playing with [Schoof] last year," Griffin said. "I learned a lot from her, so I'm excited to see what we can do."
Her near five-points-a-game average may spike this season, and W.T. Woodson has been spending extra time in practice working on fundamentals such as entry passes into the talented post player.
"A lot of the teams that we're playing are not as big as us, so we're just going to pound it in," said junior guard Melissa Gallo, who started all of last season and will be counted upon to account for Thompson's slashing drives and shooting touch.
"When I came in as a freshman, I was not very good at making post entries," Gallo said. "So I really had to learn and develop those skills. Coach Neri has really gotten on me a lot about that, but it's a great thing to learn."
Neri joked that during the off-season he'd ride a stationary bike at Lifetime Fitness and watch Gallo enter the gym to play pick-up basketball with some of her male friends. He praised the enthusiasm she brings to the court, and it's been evident early on.
<b>THOUGH THE</b> Cavaliers suffered a season-opening 51-27 loss at West Springfield (2-0) Tuesday night, Gallo poured in a team-high nine points and was still diving after loose balls with the Cavaliers down by 30 in the fourth quarter.
"The girls know that we lost some key players and we're working hard," said Gallo, who averaged 12 points per game last winter. "Annie and I need to lead the team and take it to the max."
In addition to Griffin and Gallo, Neri will look to senior point guard Becca Bajkowski for offensive leadership and stability. Bajkowski averaged three assists per game last season, often sacrificing scoring with her pass-first, shoot-second approach. Junior guard Leah Bonuccelli should also take on a larger role after adding 5.3 points a game last year.
Regardless, while W.T. Woodson lost two of the Northern Region's top offensive players, last year's underclassmen should have the experience and skill necessary to help the Cavaliers follow last year's success.
"We're trying to replace two really great kids," Neri said. "We're sorry Sarah and Ashley are gone, but I don't sense a fear that we can't be competitive without them."