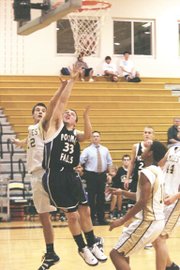 Year in and year out, the Potomac Falls High boys' basketball team manages to consistently win games and bring home Dulles District banners. Six times over the past seven years under head coach Jeff Hawes, Potomac Falls has captured either a regular season or district tournament title.
Potomac Falls never seems to be in a rebuilding mode as players who have paid their dues on the bench eventually get their chance to shine as juniors and seniors.
"We've traditionally had kids who wait their turn in line," said Hawes, beginning his 12th year at the helm of the program.
Last year's Potomac Falls team began the season 3-5 before turning things around and ultimately capturing the district tournament title with an 81-67 finals win over Loudoun County.
"That tournament run we had was very special," Hawes said.
The Panthers' season ultimately ended with a 78-59 home loss to Orange County in a first-round game of the Region II playoffs.
Despite the region loss, it was an incredible turnaround season for the Panthers, who finished 17-9 following their tough start.
"I was very proud of last year's team," Hawes said. "We were 3-5 at Christmas and things weren't going as planned. We almost had to start over. The kids responded."
Hawes, following the season, said the 2007-08 Panthers exemplified perseverance.
"I'll use this team as an example to future teams," Hawes said. "If you don't give up, good things will happen."
Seven members of last year's successful team have been lost to graduation.
"We're a little inexperienced," said Hawes, of this year's squad. "We have some seniors, but they haven't played much."
<b>THE PANTHERS'</b> top returning players are senior guards Kevin Bartnick and Gregory Woodlief and senior forward Tarrell Owens. All three were key players off the bench last year for the Panthers.
Woodlief and Owens were both standout members of the Potomac Falls football team that advanced to the Region II finals this past fall.
"We're proud of the football team," Hawes said. "They made a great run."
Woodlief, who was the Panthers' football quarterback, is Potomac Falls' starting point guard on the hardwood this winter.
"He's playing great right now," Hawes said of Woodlief. "He's a good athlete and a good leader."
Potomac Falls opened the new season last weekend at the Gobbler Invitational, which was hosted by Broadway High School. The Panthers won their first game of the tournament on Friday night, defeating Central High, 59-52, before losing to the host Broadway team the following night, 65-60.
Bartnick scored 21 points in the win over Central High, but injured his wrist in the game. He still was able to play the following night against Broadway and scored 13 points against the Gobblers.
"He's a very good shooter and can get to the basket," Hawes said of Bartnick's game on the offensive side of the court.
Woodlief, meanwhile, scored 10 points in Friday's win and 12 points against Broadway.
Owens' playing time at the tournament was reduced to just a few minutes in each game due to an ankle injury he is still recovering from. The injury occurred during a preseason game a few weeks ago. The Panthers will need the 6-foot-3 Owens if they hope to, once again, make noise in the district.
"He didn't play much at the tournament," Hawes said. "He's a very good athlete. He can jump, he's tough around the basket, a very good defender and he gets up and down the floor."
Hawes said Mickey Wagenhoffer did a good job filling in for Owens at the Broadway tournament.
<b>TWO YOUNGER</b> players who will make big impacts this season are sophomore shooting guard Lukas Mihailovich and 6-foot-5 freshmen center Greg Graves, who is the team's starting post player.
"He's got a chance to be pretty good one day," Hawes said of Graves. "He's got a lot of work to do. He's a good kid and works his tail off."
Hawes said Graves is just the second freshmen in 11 years to make the Panthers' varsity. Mihailovich recently returned with his family to Virginia from California.
"He's very athletic and can shoot and get to the basket," Hawes said.
Potomac Falls was scheduled to play Tuesday of this week at Skyline High in Front Royal. This weekend, the Panthers will host Turner Ashby (Bridgewater) Friday night at 8 p.m., then play local rival Stone Bridge High Saturday night at 6 p.m. The Saturday contest will take place at Park View High School.