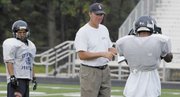 Knowing that his mind and, more often than not, his body will gravitate toward North Carolina next fall, Bill Renner has stepped down as head football coach at West Springfield High School.
Renner, who has coached high school football in Fairfax County for more than 20 years, cited his son Bryn's collegiate football career and the travel required to follow that as his primary reason for ending his 10-year career at the school off Rolling Road.
A 6-foot-3, strong-armed quarterback, Bryn Renner threw for 3,123 yards and 35 touchdowns this season in an offense that averaged 43.9 points per game. He has orally committed to play both football and baseball at the University of North Carolina.
With his wife Cindy and other family members, Bill Renner plans on traveling to his son's games and didn't feel that he could provide the necessary commitment to run a high school football program.
"I just couldn't make a commitment based on Bryn leaving and our family dynamic changing," said Bill Renner, who will continue his teaching career at the school. "If I was at [North] Carolina and I had responsibilities here, I'd feel awful like I was letting people down."
Bill Renner began his head-coaching career at Mount Vernon in 1989, moving to Langley after the 1993 season and becoming the head coach at West Springfield in 1999, leading the Spartans to a record of 57-47.
West Springfield reached the Northern Region championship game in 2006 and lost in the semifinals this season to Oakton. The Spartans have also earned shares of the past two Patriot District crowns.
<b>THOUGH THE</b> longtime coach won't assume any other in-season commitments besides traveling to Chapel Hill and around the Atlantic Coast Conference, Bill Renner still plans on helping with various off-season camps and staying involved with football and coaching.
On Wednesday, Nov. 26, Bill Renner approached West Springfield director of student activities Andy Muir and made his intentions known. No action was taken until after the Thanksgiving break and the two met again Tuesday morning to make a final decision. Bill Renner informed his players that afternoon.
"I think people look at success often in terms of wins and losses, so from that aspect we'd like to continue," Muir said. "But I think what Bill has done off the field has been just as important in terms of developing young men with character, respect and the elements that don't always show up in the results column."
A running back turned punter, Bill Renner played college football at Virginia Tech and moved on to punt for the Green Bay Packers. During his time at West Springfield the Spartans have had two distinctive traits: a solid kicking game and an offense capable of scoring lot of points.
Muir said the position will be open to "anybody and everybody" and had yet to compile a list. Regardless of who succeeds Bill Renner, the former West Springfield coach has complete confidence that the program he built will continue to succeed.
"I think they'll be just fine," Bill Renner said. "We've been able to establish a work ethic and a standard of performance, and I don't think that'll wane. Then again, somebody could come in and probably take it to a higher level."