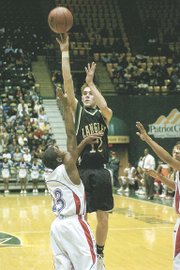 Last year's success might be difficult to match for the Langley High boys' basketball team, but fourth-year Saxon coach Travis Hess is confident his squad can make another strong run at winning the Liberty District championship.
"We think we have a chance to defend our Liberty District title," Hess said.
The 2007-08 campaign was a dream season for Langley, which captured the district crown and went all the way to the Northern Region championship game where it lost to T.C. Williams at the Patriot Center. But by reaching the region finals, the Saxons automatically qualified for the state AAA playoffs for the first time in school history. There, they lost to Bethel High of Hampton in a quarterfinals round contest in Portsmouth.
"It's great to look back and see what we accomplished," said Hess, whose Saxons (24-6) won six consecutive postseason games before its losses to T.C. and Bethel. "We were playing our best basketball at the end of the year. We were continuing to improve and you could see their confidence grow."
Langley lost two of last year's starters to graduation in guard Ryan Davenport and forward Ahmed Malik, but the Saxons return seniors Barrett Hunter, Derek Baker and Thomas Kody to the starting lineup this winter.
Langley opens the new season this Friday night at King William High School (Richmond area) where it will compete in the Cavalier Tipoff Tournament. The Saxons will meet Greensville County (Emporia) Friday night, at 7:30 p.m., and then play host school King William Saturday afternoon, at 2 p.m. Another local Northern Region team, Westfield, will also be participating at the early season tourney.
<b>THE SAXONS</b> certainly have a strong nucleus of seasoned players back in Baker, Hunter and Kody. The 6-foot-4 Baker, a shooting guard, tallied a team-high 22 points in the Saxon's state playoff meeting against Bethel. For the season, he averaged 13 points and seven rebounds, helping him earn Second Team All-District accolades. This season, Baker will play a forward position in Langley's four-guard offensive set.
"He's a kid that can score inside and outside," said Hess, of Baker's game. "He can shoot the ball from the perimeter and can go to the basket."
Baker made an outstanding 81 percent of his free throws last year in 150 attempts.
"He's a guy that can score in a lot of different ways," Hess said.
The 6-foot-2 Hunter, who can play point guard or at shooting guard, averaged seven points and four assists last year. He ran the offense at point guard last year, but will likely see more time at an off guard position this winter.
"We'll try to put him off the ball a little this year because we need him to score," said Hess, impressed with Hunter's ability to rebound and play solid defense.
Kody, who is 6-foot-4, will see quality time at point guard this season after getting minutes there towards the end of last year.
"TK is a very smart player who can play at [point or off guard]," said Hess. "He's probably the hardest working kid we had in the offseason. He rounded out his game and is our best on-ball defender."
Of the trio — Kody, Hunter and Baker — the coach said, "These three guys are [team] captains and we will look for them early [in the season] to lead us."
<b>ANOTHER</b> key player will be senior Danny Pritchett, the Saxons' football quarterback this past fall. The basketball guard struggled with injury problems on the gridiron, but has impressed Hess during early season practices. Last year, he saw little court time, but will be an instrumental part of the team this winter.
"I was worried he might not be available," said Hess, in regards to Pritchett's football aches and pains. "He's looked tremendous. He's really improved his [shooting] range and has gotten so much better. He will start."
W.T. Woodson is tabbed to be the top team in the district this season. Langley has struggled against the Cavaliers in recent years. Hess' teams are 0-8 against the Fairfax-area squad. The coach said he would love to get in the win column against the Cavaliers this season.
Langley will compete in the Westfield Bulldog Bash tournament (Dec. 27, 29 and 30) over the Christmas holidays.