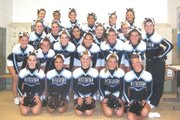 She'd probably have something similar anyway, but Centreville cheerleading coach Tootie Rivera's color-coded spreadsheet, which details her team's roster and the status of those on it, was especially handy during this recently-concluded fall season.
It's just been <i>that</i> kind of year.
With all of the injuries, suspensions and lost team members that the Centreville squad has dealt with, Rivera's document looks more like a box of Trix than an organizational tool.
"They've overcome so much this year," Rivera said. "I've been coaching for over 20 years. I've done college and I've done high school, and I've never seen a team this dedicated, this determined and with such spirit."
Five yellow boxes highlight those that are no longer on the team and a red box surrounds the name of Haley Esau, who was lost early on with an injury.
But the five losses didn't happen at once. That might've been too easy.
The first came two nights before the Concorde District semifinals; two cheerleaders were suspended and would miss 15 days of competition.
<b>IN TURN</b>, Rivera summoned two girls from her junior varsity squad, and Lina Harfoush and Lauren Johnston miraculously learned the routine that helped the Wildcats to a fourth-place finish.
"Our team has actually gained a lot of positivity," said sophomore Melissa Clubb, who earned All-Northern Region honors. "That brought a new confidence to our team. From that point, we kept encouraging each other so every obstacle that came on we knew we could face it."
And it's a good thing.
At the Northern Region competition at Robinson Secondary School, Centreville was seeded seventh in the first session of the day. About 10 minutes before the Wildcats were scheduled to perform, junior flyer Ally Nasta landed awkwardly after a Teddy Bear stunt and, though she didn't know it at the time, broke her ankle.
<b>NASTA WENT</b> to see a trainer and had the ankle wrapped heavily. Meanwhile, Rivera told her team the story of Kerri Strug, the Olympic gymnast whose performance in the 1996 Atlanta Games will forever be etched into Americans' memories.
"That got us all positive and pumped up," said sophomore Mariah Rivera, who was the team's second All-Region honoree along with Clubb. "We all cheered her on and she got through it."
"I was really worried about not being able to compete because I love cheerleading so much. The first thing in my head was, 'No, I have to compete,'" said Nasta, who performed anyway, willing her team to a third-place finish.
"Some people are like, 'Wow, I can't believe you did that.' I can't even remember," Nasta added. "I just remember walking out so satisfied. I knew that if I wasn't going to be able to compete, we probably wouldn't have moved on."
The gusty performance would be Nasta's last of the season. She's been confined to a boot for the past four weeks with two more still to go, but the ankle appears to have progressed just fine.
In the Virginia AAA state meet, with Nasta unable to compete, Mariano Mastriano stepped up from the junior varsity squad and the Wildcats delivered an 11th-place finish in their first state-level competition in seven years.
"We've learned to stay positive and that we can overcome anything," Clubb said. "If we set goals one at a time and do things one at a time, we can do anything."