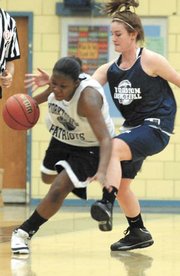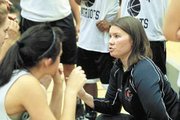 Last season, first-year Yorktown coach Kim Cordell surprised many when her team jumped out to a 16-1 record, the best beginning to a season in school history. But the Patriots stumbled a bit down the stretch, losing four its last six heading into the Northern region tournament before succumbing to W.T. Woodson in the semifinals.
After catching teams — themselves included — off-guard during the scorching start, Yorktown went through an adjustment period as opponents realized just how good the Patriots were. Returning seven players this year, Yorktown thinks the little hiccups to close last season will prove beneficial now.
"It's wonderful because when you play against a high caliber team you see what you need to work on," said Cordell. "A lot of our philosophies are the same from last year, but obviously with different personnel, you never know."
Cordell said Yorktown plans to play an up tempo style that will emphasize pressure defense and look to take advantage of the Patriots speed and athleticism. Leading the charge will be senior LaNia Charity, last year's starting point guard and leading returning scorer.
This season, she will be counted on to pick up the scoring load left courtesy of the graduation of first-team all-district selections Cindy Brice and Billee Ripy.
"LaNia is just a great all-around player," said Cordell. "She can get it done off screens or by herself."
It was a season to forget for the <b>Wakefield</b> girl's basketball team after compiling a woeful 2-20 record last year. So to help rectify the situation, the Warriors have delved back into memories of the past, bringing back coach Marsha Richardson, who led the girl's basketball program from 1993-2001.
Richardson spent the last two seasons as an assistant coach at West Potomac, but was still a teacher at Wakefield during that time.
"It's a good opportunity to be back and get the program back," said Richardson. "The kids are working hard, they're doing everything I ask them to do, so we'll just go from there."
Despite a poor showing last season, Richardson did not inherit an empty cupboard. The team returns six seniors that have played together all four years of high school. But with so much losing in the immediate past, the coach doesn't want to single any one player out for praise just yet.
Right now, Richardson just hopes a blast from the past is exactly what this sleeping giant needed.
"I'm trying to get them to sense that urgency, that this is it, that this is the end of their high school basketball careers and it's a great opportunity. Just because we won two games last year doesn't mean it has to be that way this year."
The <b>Washington-Lee</b> girl's basketball team hopes the experience gained while taking its lumps throughout a subpar 6-16 season last year will pay off with more wins as the team welcomes a new coach.
Angie Kelly, an assistant for the Generals last season, takes over a team that lost five seniors to graduation but returns seven juniors that all played as sophomores a year ago. Her transition has gone smoother than expected thanks to a team summer camp at VCU that most of W-L's core rotation players attended. Kelly thinks if this team is to thrive it will be because of its perimeter play, especially with players like juniors Shante Waller, Evelyn Hartz, and Jen McCue all back. Sophomore Rachel Rich will be counted on to do the heavy lifting on the interior for a relatively inexperienced front court.
"I'm looking to be more competitive this year," Kelly said. "I want them to experience some success."
It's easy to sense the excitement in <b>O'Connell</b> girl's basketball coach Jimmy Brown's voice these days. That's what happens when a program is on the cusp of avenging several seasons of losing with all five starters returning.
The quintet of seniors Kelly Horvath and Meg Lagos and juniors Sarah Jones, Shannon Tumelty, and Kate Culhane that will make up the Knights starting lineup have all played together for the past two seasons, including last year's 5-19 campaign. Brown believes all five are poised to have an impact in the very competitive WCAC.
"They took a lot of flack from their peers the past couple of years, but they stuck with it and I really think they're going to reap the benefits this year," said Brown.