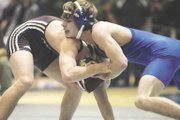 The face of Yorktown's Nathan Young as he walked off the mat Saturday night told the whole story of last weekend's Northern Region Wrestling Classic.
After losing his final consolation bout — his seventh match in a little over 24 hours — to finish in sixth place in the 189-pound weight class, Young's beat up mug looked like something straight out of a war movie.
"I've got black eyes, scratches all over my face, a bloody lip," said Young, who was the only Patriot wrestler to finish in the top-six individually. "So you can feel it, especially in that last match. One (move) messed up both of my lips again."
Young was one of more than 430 area wrestlers in the 32-team Northern Region Classic field that wrestled close to 840 matches over two days at Fairfax High School, and judging from the tired expressions around the gym as the finals concluded late Saturday night, it took a heavy toll on all of them.
"I was just gassed," said Bishop O'Connell's James Young, no relation, after losing the championship match in the 125-pound weight class to Patrick Foxworth of Poquoson. It was a sentiment shared by many others, coaches included.
In detailing his schedule over the course of three days, O'Connell's Bill Carpenter could only shake his head in wonderment at how he and the rest of his Knight squad were able to be so successful, finishing in fifth-place overall in the tournament.
For Carpenter, the tournament actually began Thursday, when he took his team through a final practice in the afternoon before Friday morning's weigh-in. From there, he and the rest of the head coaches participating in the tournament had to head over to Fairfax for a three-hour seeding meeting.
Like many of the coaches, Carpenter's day job is as a teacher, which meant the wee hours of Thursday night and Friday morning were spent devising lesson plans for his substitute teacher since weigh-ins were to take place at 7:30 a.m. Friday, and the tournament kicked off at 10 a.m.
The coach said he didn't leave the Fairfax gym until around midnight, only to come back by 7:30 a.m. Saturday morning for a second round of weigh-ins. The finals of the heavyweight division didn't end until after 8 p.m. That's more than 50 hours of wrestling on the mind.
"It's brutal," said Carpenter of the two-day marathon of a tournament that was won by Robinson High School. "It's a lot of fun and it's rewarding, but it's a lot of work."
Added Yorktown coach James Blanton at the conclusion of wrestling: "Mentally, we're out there wrestling every match with them. We've got guys wrestling five, six, and seven matches … so you gotta get yourself up for that. My voice is shot right now."
<b>BUT THE TRUE WARRIORS</b> are the wrestlers themselves, who along with battling the opposition, must battle themselves. With a second weigh in Saturday morning, most competitors must eat in and drink in moderation during Friday's matches to keep their weight down. With all the matches an eventual top-six finisher must go through, the whole process can be grueling, draining, and tiresome all at the same time.
Different wrestlers cope in different ways, though, and those that are most effective at conserving energy generally end up with the best results.
Bishop O'Connell was the standout amongst Arlington schools, finishing in fifth-place as a team thanks in large part to four top-three finishers. The Knights had three wrestlers make the finals in their respective weight class, more than they've ever had at this tournament. The coach's son, John Carpenter, led the way for the Knights, winning the 135-pound weight class with an 8-4 victory over Tanner Tinsley of Poquoson.
This tournament mattered a lot to me because I've never done well at this tournament," said Carpenter. "It was important to me to see how much better I had gotten over the offseason."
The Knights' Nam Dunbar finished in second place in the 130-pound weight class, losing a late lead to Roman Perryman of Robinson in the finals. Kyle Mason came in third place in the 119-pound weight class.
The weekend was also a success for Wakefield, who had two sixth-place finishers — Carlos Bonilla in the 140-pound weight class and Chris Ioffreda in the 171-pound weight class. "I'm real happy with our showing," Wakefield coach Jeff Humphries said. "We wrestled well."
Washington-Lee's Manik Sarik also placed in the top-eight in the 130-pound weight class, capping off a successful opening week for the Generals, who won their opening dual matches of the season against Lee and T.C. Williams.