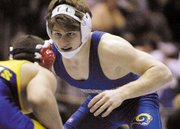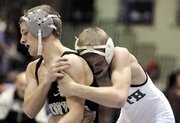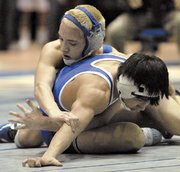 Over the past couple of years, Reid Brown accumulated a few second-place finishes. More than he cared for, really. Robinson wrestling coach Bryan Hazard even nicknamed Brown the team's "Best Man" because of his proximity to the spotlight but his notable absence from it.
The Best Man finally got hitched on Saturday evening at Fairfax High School for the Northern Region Wrestling Classic, an annual season starter that showcases 32 schools' worth of talent. Brown, a senior, scored a 4-3 victory over Ross Renzi of Lake Braddock to win the 145-pound tournament title. It was the first win of Brown's high school career.
"I've been an underdog my whole life," said Brown, who suffered two sizable scratches to his cornea during a semifinal win over Chantilly's Jack Carlson. "It kind of drove me forward."
Because of the scratches, Brown spent nearly three hours with the training staff and took an antibiotic that left him "woozy." No matter. Brown ignored the affects of both the injury and medication, much like he did during his junior campaign when he wrestled straight through a fractured bone in his back.
"I've always had a really high tolerance for pain," Brown said. "I still wrestled. I still got beat up and, I still came out on top."
<b>DESPITE FINISHING</b> second to Westfield during three out of the past four Northern Region Classics, the Rams finally put an end to their Best Man syndrome as a team by outscoring the Bulldogs, 222-194.5.
"It's a good place to start," said Hazard, whose team finished second to Westfield in the Concorde District last year. "It's nice to beat Westfield, but it's always nice to win. I don't care who it is. You always want to win."
Brown was joined at the altar by classmate Roman Perryman, whose much-anticipated showdown with Bishop O'Connell's Nam Dunbar ended when Perryman scored two late points and recorded an 8-6 win.
Tied at six entering the final two-minute period, the 130-pound Perryman reversed an attack from Dunbar and held on for the win. Perryman was later named the tournament's Most Outstanding Wrestler.
"I was really tired, and I was just waiting for him to take a shot," said Perryman, who won a Concorde District title last season at 119 pounds. "Once he did, I snapped him down and capitalized on it."
While Perryman and Brown didn't exactly run away with their matches, Lake Braddock's George Billy found a different result. Wrestling Poquoson's Steffan Baker, the 119-pound Billy cruised to a 17-4 win.
Like Perryman, Billy replicated his 2007 Classic victory.
"I just went out there and tried to work hard to get as many points as I could," said Billy, who has won three state titles during his prolific career. "But I was pretty much trying to dominate this tournament."
In the first match of the finals, South County's Patrick Shaffer earned a 3-2 win over Hickory's Todd Self, taking the 103-pound tournament title.
Shaffer took slast season and looks to improve upon that mark this season. If his early-season wins are any indication, Shaffer should be well on his way to that goal.
"This is a huge start," said Shaffer, who won a Patriot District title last winter. "My coach always says to wrestle in the beginning how you want to finish. [Self] was a very good opponent, pushed the pace, but I think I had more experience."
<b>IN OTHER TOURNAMENT ACTION:</b> Robinson's Marcus Hathaway suffered a 1-0 defeat to Westfield's Austin Fallon in the 189-pound final. Hathaway nearly executed a takedown within the two-minute time frame, but an official ruled that it came too late to count. Robinson's Jake Smith (103), Ben Stallings (140), Mickey Bennett (145) earned third-place finishes. As a team, South County finished fourth with 149.5 points. Lake Braddock's Josh Park scored the tournament's second-fastest pin: 16 seconds in the 171-pound weight class.