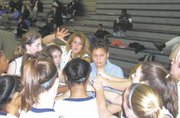 It was early in the first quarter of last Tuesday night's season-opening boy's basketball game pitting Washington-Lee against West Potomac and Generals coach Bobby Dotson just wasn't happy with the way his starters were playing.
Instead of calling a timeout to get his message across, Dotson eschewed conventional wisdom and substituted every single one of them out of the game. There was hardly enough room at the scorer's table as the five new players waited to enter the game.
The 10 members of the W-L team that exchanged places were just some of the 12 total players Dotson used over the course of his team's eventual 57-55 loss.
"It's a learning experience, but we have some kids who battle and as long as we battle we should be in good shape," said Dotson, whose team also lost to Herndon last weekend to start the year 0-2.
That paled in comparison to the 14 players that saw action for the W-L girl's team in its opening game of the year, a 44-30 victory against West Potomac.
For any high school hoops junkie, the onset of December is the happiest time of the year. After a fall full of hard hitting (and oftentimes) cold football Fridays, the basketball season is finally under way, with all the Arlington schools taking to the hardwood in the past week.
But for area coaches, it is a time of great upheaval as they attempt to gauge what they have in terms of talent on the floor. While there are exceptions that return oodles of seniors, most teams are like the W-L boy's and girl's teams trying to work out the kinks with some players back for a second or third season on varsity and others that are seeing their first action after a season or two at the junior varsity level.
"It was very sloppy and I was shocked by some of the errors and turnovers that we had," said W-L girl's first-year coach Angie Kelly, who added that the only way to see how good a player can be is to give them game experience. "I think they were nervous. I know I was, my coaches were, you know just first-game jitters."
Add on the fact that many members of basketball teams have been playing other sports for much of the fall and it all equals a work in progress to begin the basketball regular season.
"At first everything was kind of new, and people had been playing soccer and stuff so they were just getting into basketball. We pretty much just joined together as a team recently," said W-L's Rachel Rich, who scored 16 points in the Generals' win over West Potomac. The W-L girls lost to Herndon, 56-24, this past weekend to even its record at 1-1.
Even those from a winning team see the silver lining in these early-season matchups. After his Wolverines defeated the W-L boy's team last week, coach David Houston III acknowledged his victory will probably mean little down the road considering how much improvement both teams will undergo with more time together.
"I'd say a month from now, neither of us will be the same," said Houston.