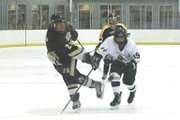 <b>Panthers Suffer Late Loss</b>
In Northern Virginia Scholastic Hockey League action on Sunday, Dec. 7, Paul VI suffered a 6-5 loss to Westfield at the Ashburn Ice House. With the game tied at five in the third period, Westfield scored on the power play with 2 minutes, 28 seconds left to pull ahead. Despite the loss, junior Nick DiBiasio recorded his first hat trick of the season. The Panthers will hit the ice again on Friday, Dec. 12 at SkateQuest of Reston when they face off with McLean at 9:40 p.m.
<b>Performance To Remember</b>
Members of the Paul VI dance team recently traveled to New York City to perform in the Macy's Thanksgiving Day Parade. The girls attending were seniors Liz Carter, Erin Steele, Lindsay Godbout , Lauren Madelmayer and Katie Roper.
They performed with the Spirit of America Cheerleaders, a group of 650 officers from dance and cheer teams from across the country.
"It was an amazing experience, dancing in the parade," Godbout said. "The rehearsals prior to parade day were rough, but it was definitely worth it to perform."
The team has also attended the Big Apple Classic, a competition hosted by the National Dance Association where the Panthers won three first-place awards.
<b>Kapinos Debuts with Packers</b>
After signing with the Green Bay Packers on Wednesday night, Jeremy Kapinos, a 2002 graduate of West Springfield High School, didn't waste any time, punting eight times for 316 yards (34.5 net) during a 24-21 loss at Houston on Sunday. Three of those punts landed inside the 20-yard line. Kapinos replaced Derrick Frost, who prior to this season held the same position for the Washington Redskins.
A 2006 graduate of Penn State, Kapinos worked one game during the 2007 season with the New York Jets, punting five times for 208 yards. The 6-foot-1, 230-pounder was a 2006 Ray Guy finalist, an annual award given to the nation's top collegiate punter and is Penn State's career leader in punting yardage. Kapinos' high school coach, former West Springfield field boss Bill Renner, punted in six games for the Packers between 1986-87.
<b>Mizzoni a Columbia Captain</b>
Lake Braddock graduate Joey Mizzoni, now a senior pitcher for the Columbia University baseball team, was recently selected as one of three team captains for the upcoming spring season.
The Burke native was second on the team last year with 25 appearances, pitching mostly out of a relief role. He had two saves and recorded 21 strikeouts in 25 1/3 innings of work.
"Joe is Mr. Energy," Columbia coach Brett Boretti said in a press release issued by the school. "He's always fired up and leads by example with his effort on a daily basis."
During his career as a Bruin, the right-hander was a two-year captain and a second-team All-District honoree in 2004.
<b>Registration Open for Tennis League</b>
The Northern Virginia U.S. Tennis Association Super Duper (over 70) Men's Doubles Tennis League is open for registration for the season scheduled to begin in March 2009. Play will be at the Regency Sport and Health Club on Old Meadow Road, Exit 46-B off the Beltway. For further information, contact League Coordinator Edward Bernier at EdwardBernier@aol.com.
<b>Jefferson Roundup</b>
Jefferson's girls gymnastics team earned first place at its first meet of the season on Tuesday, Dec. 2. The Colonials, with 136.7 points, held off second-place Edison (121.925) and third-place Fairfax (105.7). Burke native Chrissy Franzel finished second on the vault (9.25), third on bars (8.575) and fourth on floor (8.8). Fairfax native Amanda Gilbert took first place on bars (8.7) and fifth on the vault (8.95). Franzel placed fourth in all-around competition; Gilbert finished fifth.
The Jefferson boys swim and dive team opened its season with a 125-190 loss to Langley. Jefferson's girls team also fell to the Saxons, 143-172. Burke native John Walsh earned first-place honors in the diving portion, while Fairfax Station native Andrew Hong recorded top-three times in both the individual medley and backstroke. Clifton native Mary Kate Dilworth posted a top-three finish in the individual medley. Fairfax native Christina Wallin (diving) and Burke native Lauren Laffosse (butterfly, breaststroke) also added top-three performances.
<b>Hewitt Breaks Own Record</b>
Robinson graduate Hailey Hewitt, now a freshman swimmer at William & Mary, broke her own school record in the 100-yard butterfly at the Short Course Nationals on Friday, Dec. 5. She touched the wall in 55.74 seconds, which was good enough for 33rd place. Later in the competition, Hewitt took 44th in the 200 fly with a time of 2:03.89 and 36th in the 200 back with a time of 2:01.17.