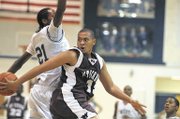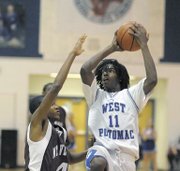 At first glance, it would appear the Mount Vernon boy's basketball team had gone through an entire season's worth of emotions, surprising considering the 2008-09 campaign is little more than a week old now.
Already having to deal with the loss of 2008 National District Player of the Year Marquel De Lancey and a late start to practice thanks to the Mount Vernon football team's playoff run this fall, the Majors have endured through several tests and emerged looking like a force to be reckoned with — even if their record indicates otherwise.
In just the year's first four games, Mount Vernon has scored more than 70 points twice, gone to rival West Potomac's gym and defeated its Richmond Highway bretheren, gone up against Veritas Academy, a North Carolina school with a starting front court of seven footers, and then had to play the defending Virginia AAA state champions, T.C. Williams, in the Titans first game since winning that title.
And while Mount Vernon did not emerge from this roller coaster of a beginning unscathed — the Majors lost to Veritas, 56-51, Saturday and T.C. Williams, 70-66, Tuesday night — coach Alfonso Smith has reason to believe he has the right ingredients for another run at the National District crown.
"We're playing quality opponents early in the season, which is forcing us to grow up a little quicker than what we normally need to," said Smith. "But to come away with two wins to start with and still thinking we're not close to the peak we can reach, it's a good feeling."
<b>SMITH KNEW</b> it would take more than one player to offset the loss of De Lancey, who is playing for Old Dominion. But it's safe to assume he didn't anticipate 10 guys picking up the slack. But more often than not in the early going, that has been the case.
Mount Vernon started the year off with an 85-56 thumping of South County, which set the Majors up for their much-ballyhooed confrontation with neighborhood rival West Potomac.
And in what is fast becoming the early-season theme for the team, the Majors utilized a balanced attack and some old fashioned defensive intensity that eventually wore down the Wolverines. Mount Vernon held the Wolverines to just 14 first-half points, six of which came from the free throw line.
Still, West Potomac lurked closely throughout the second quarter and much of the third until Mount Vernon upped its defensive effort once again and put away West Potomac thanks in large part to a 14-2 run late in the third quarter that extended into the fourth quarter. It allowed the Majors to coast to a 74-45 victory.
Twelve different Majors had a point, led by junior Skylar Jones, who had a team-high 15 points and seven rebounds.
"Last year we had Marquel but this year everybody is stepping up, everybody can score, and everybody shares the ball," said senior guard Derek Pruitt.
Smith says this balance should be the team's strength all year if players accept their roles. He pointed to Pruitt and senior captain Brian Green as prime examples of unselfishness, since the two veterans have swallowed their egos thus far and come off the bench.
"We got a lot of weapons this year," said senior Kyle Ricks, who had seven rebounds against West Potomac. "We got a lot of people who can start or come off the bench."
<b>BUT NO AMOUNT</b> of balance could help Mount Vernon when it went up against the defending state champion, T.C. Williams, Tuesday night.
Mount Vernon stayed within striking distance the entire way, trailing by just one at halftime, but the Titans went 9-2 in the beginning of the fourth quarter to extend their lead to 13. A late Mount Vernon comeback proved too little, too late.
Jones was once again impressive, scoring 23 points on 9-of-14 shooting, while grabbing another seven boards. Senior Robert Coleman also chipped in 13 points.
One glaring issue that has cropped up in the Majors' two losses thus far has been free throw shooting. In their defeats last week, Mount Vernon shot a combined 25-for-50 from the charity stripe. Had it not been for the mental errors at the line, the Majors could easily be sporting a 4-0 record right now.
"We definitely have to become a more mentally tough team," said Smith after the loss to T.C. Williams. "We're a pretty decent team, but we still have some areas where we need to improve. You play a pretty good team like (T.C. Williams), it exposes those areas."