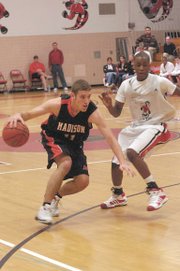 There were plenty of positives to focus on in the Herndon High boys first basketball loss of the season last Saturday night — a 66-47 road defeat to national prep school power DeMatha (Hyattsville, Md.).
Against the Stags, the No. 3-ranked high-school team in the nation, the Hornets (2-1) got within nine points in the final quarter after trailing by a 36-19 score at the half.
"It showed us we could play with them," said Herndon coach Chris Whelan, beginning his second season as the program's head coach.
Whelan, just as his predecessor, Gary Hall, did before him, has stressed defensive intensity to his team. He was pleased with the Hornets' defensive showing against DeMatha.
"We played defense extremely well," said Whelan. "That's what we're relying on."
Herndon senior forward Isaac Johnson scored 21 points with 13 rebounds in the loss to DeMatha. Senior guard Marshall Hamilton added 13 points.
Herndon, prior to the DeMatha game, opened the season with home wins over visiting Madison, 52-43, Dec. 2, and Washington-Lee, 60-40, Dec. 5. In the Madison win, senior Darian Olson led the Hornets with 17 points. Also for Herndon, Hamilton netted 11 points, sophomore guard Austin Hamilton had nine points and Zack Ozycz scored seven.
Madison led Herndon at the half, 27-21, before wearing down in the second half. The visiting Warhawks, the night before, had lost to private-school power Bishop O'Connell, 71-41, on the road.
"We knew playing back to back on the road would be very difficult," said Madison coach Chris Kuhblank, whose Madison teams have won 40 of 46 home games over the past four seasons, but have had a tougher time away from Vienna. "We ran out of gas [in the second half] and Herndon is very good."
Madison senior frontcourt player Will Clarkson, the Warhawks' football quarterback this past fall, led his team with 25 points against Herndon. He was the lone Warhawk player in double figures.
"We were just going to him every time [down the court]," said Kuhblank, whose team was riding the red hot Clarkson against the Hornets. "He was getting dunks, hitting [outside] threes and making free throws."
<b>HERNDON</b>, in its win over Washington-Lee, received 14 points from Olson, 10 from Ozycz and nine apiece from Austin Hamilton and junior shooting guard Randoll Anane.
"We've got a good team right now and we're pretty athletic," Whelan said. "We held both [Madison and Washington-Lee] in the 40s. We work hard on defense every day in practice. We work hard on pressuring and everyone knows what their job is."
Johnson and Anane are returning starters from last year's Herndon team that went 13-11 in Whelan's first season. Johnson, who is 6 foot 4 inches, earned Second Team All-Concorde District honors. He is likely to be a force this season.
"I think Isaac's the best player in the region," Whelan said. "He just works so hard on his game. Now he's taking his game outside and can shoot the 15-footer."
Whelan has been pleased with the play of the 6-foot-5-inch Ozycz, Herndon's football quarterback the past two years. The frontcourt player did not see many minutes on the hardwood last year, but will be an impact player this winter.
"He works so hard and puts himself in good position," Whelan said. "He's just grown as a player."
Another important front court player is 6-foot-8-inch center Jared Johnson, a part-time starter last year who has improved his physical strength, according to the coach.
Whelan said his players worked hard during the offseason to improve their individual and team skills. The Hornets competed in three summer leagues — Sleepy Thompson (St. Stephen's & St. Agnes), Flint Hill and Madison. Herndon gained the league title in the Madison league.
"They played a ton of summer league games and grew as a team," Whelan said.
Herndon was scheduled to play games this week at Edison Tuesday night and at cross-town rival South Lakes this Friday night at 8 p.m. That game between the Hornets and Seahawks will follow the Herndon-South Lakes girls game as part of a Friday night doubleheader.
Over the Christmas holidays, Herndon will compete at the eight-team Benedictine Tournament in Richmond, from Dec. 27-30.