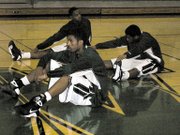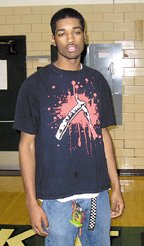 As he warmed up for a district game against J.E.B Stuart last February, Wakefield's Johnathan Ford had no idea that his basketball career was about to be stopped in its tracks.
A year after making the state tournament, the Warriors were in the midst of completing the worst season in coach Tony Bentley's seven-year tenure at the school and Ford was the team's best player.
That's what made the phone call Bentley received from Ford's father, Marcus, right before tip off all the more painful. The 6-foot-4 Ford, a legitimate Division-I basketball recruit, was struggling in the classroom to the degree that his father thought it was in his best interests to leave the team and focus on school.
"It really didn't matter how well he was playing, he wasn't going anywhere with those grades," recalled Marcus Ford, a former basketball player at George Washington University.
Since the contest was literally minutes away from beginning, Bentley made the decision to not tell Ford or the team until after the game. So as Ford sat on the bench, he and his teammates wondered just what was going on.
"It was the worst feeling ever," said Ford. "I was begging coach, 'Just tell me what I did, just tell me something.' But he was just sitting there."
In the locker room at halftime, with his team losing both the game and its grip on the situation, Bentley finally broke the news.
"The rest of that game and season were horrible," said Bentley.
<b>THE COACH</b> made a call over to a friend working at Georgetown to ask for some advice about how to get Ford back on track, and hopefully transform his star player back into a college-worthy athlete.
The bottom line was there were no easy solutions. Ford, who moved to the area from Detroit in sixth grade, would have to hunker down and study to get his grades up.
Bentley came up with a set of rules predicated on attendance and performance in the classroom. A missed class or assignment meant more sprints in the gym. Bad grades meant no basketball at all. Meanwhile, his father made him take on some new responsibilities off the court, forcing his son to get a job working at a local convenience store over the summer.
"I snuck in there a couple times and he just looked miserable," Ford's father said with a laugh last Friday.
Ford is now accountable for everything he does, on or off the court.
"I think he realizes that it can be taken away at any moment," said Bentley. "One slip-up and his dad is gonna pull him or I'm gonna pull him. It's bigger than basketball. It's about him and his future. I think that really humbled him."
<b>THOSE DAYS</b> feel like a distant memory with Wakefield off to a 4-0 start to this season. The main catalyst has been Ford, who has re-emerged as one of the Northern region's top players thus far, averaging more than 21 points per game. He's already got two triple-doubles and was the star of the Warriors' come-from-behind 95-86 overtime win over Lee last Friday night, scoring 32 points, grabbing 13 rebounds, and dishing out four assists.
And by all accounts, it's going nearly as well in the classroom, where Ford is getting A's and B's this year. Coach and father see a more mature boy developing into a young man before their eyes.
Coming into this season, Ford worried about gaining back the trust of his teammates after abandoning them while their collective boat was taking on water a year ago. It didn't help that players and coaches described the Ford of prior seasons as selfish and only concerned with how many points he could put up.
"But he's much more of a leader now," said team captain Robel Getu. "In the end, we lost a key player, but it has made us more of a family. It has made us stronger."
Still, coach and parent worry it can't all be smooth sailing. With increased attention to his play comes the potential to get caught up in the limelight and regress in the classroom. And even in his virtuoso performance against Lee, there were moments when the old Ford re-appeared. In the third quarter, Bentley even benched his star for not passing the ball enough.
But in what is becoming a pattern for Ford, when he was allowed back on the court, he returned as a man on a mission, putting his team on his back with points, assists, and rebounds. It's all part of proving he's a changed person, in the classroom and on the court.
"I'm more focused and I listen a lot more," said Ford. "There's a lot more to basketball than scoring, and I learned that in the off-season."