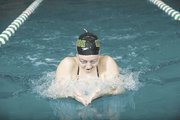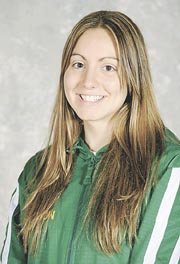 Before the 2008 Virginia AAA state swim and dive championships, which took place at George Mason's Aquatics and Fitness Center this past February, Lake Braddock graduate and Springfield native Ashley Danner was fairly confident that someday her name would adorn the wall space reserved for the school's record holders.
As one of the top swimmers in the ultra-tough Northern Region and as someone who was recruited to spend her next four years in that same water, Danner had a feeling that her own pool record at Mason would come. She just didn't think it would happen before the end of the evening.
"Before states I would go to the pool and look up at the record board and think that I wanted to try and get that," said Danner, who's now a freshman on the swim and dive team at Mason. That night, she set a pool record in the 200-yard individual medley with a time of 2 minutes, 1.19 seconds — a mark she'd later break, twice.
The record-setting performance not only delivered one of three (two individual, one relay) state titles for Danner the high-schooler, but it also served as a foreshadowing of her current career on the Mason swim and dive team.
"When I looked up and saw it I was so happy that all my hard work had paid off," Danner said. "Coming here at the beginning of this school year, I thought it was really cool to go and see my name and to have some of my new friends saying, 'Oh look, you're name is already up there.'"
Perhaps the perfect testimony to her success thus far on University Drive, Danner's February mark no longer stands as a pool record. She smashed it. Danner is not even halfway through her first collegiate season and already has a stranglehold on the Mason swimming record books.
Danner has set or tied five school records (100 freestyle, 100 and 200 breaststrokes, 200 IM, 400 medley relay), broken four CAA records (100 and 200 breaststrokes, 200 IM, 400 medley relay) and has made the NCAA "B" Cut in the 400 IM.
For the 2008 U.S. Short Course National Championships at the beginning of the month, Danner set records in three events, most notably the 100 breaststroke where she obtained school and conference records and was declared the 18-and-under national champion. She also set school and CAA marks in the 200 breaststroke (2:10.06) and 200 IM (2:00.26).
"Her swimming was on such a level that she outgrew high school," said Miriam Lynch, who coached Danner during her junior and senior seasons at Lake Braddock. "To see her do so well at college, I wasn't surprised because it was a bigger forum. She just needed that forum, that level and those people to push her."
<b>DANNER ARRIVED</b> at Mason having done very little work outside of the pool. She didn't despise weight training, though she rarely did much of it, and slinging around a medicine ball wasn't one of her favorite ways to fill an afternoon when class was cancelled.
But as the competition around her increased, so did Danner's conditioning requirements. Every other week, she was handed full-body workout sheets that listed heavy loads of dumbbell work, bench press variations and abdominal workouts.
"I think she's gotten stronger and it's been largely from the weights," said George Mason swim and dive coach Peter Ward. "As she's gotten stronger, she's more powerful in the water, and I think that's made a big difference in all of her strokes."
The harder the out-of-the-pool work got, the more difficult regular practices became. The extra work motivated Danner and pushed her to a point where she had never been pushed. In her three months living on campus, Danner loves everything about George Mason, save for a lengthy trip across campus when her legs feel like cement.
"It's a lot different for me because I never did weight training or dry-land stuff before, and I think that has helped me a lot to become a better swimmer," Danner said. "There are more people here that are at my level and I like that because it makes me push myself harder to see how far I can go."