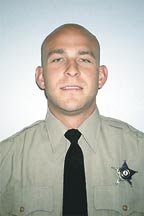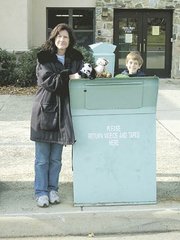 Send announcements or events, which are open to the public at no or minimal cost, to The Loudoun Connection, 7913 Westpark Drive, McLean, VA 22102 or e-mail <a href="mailto:loudoun@connectionnewspapers.com">loudoun@connectionnewspapers.com</a>. Deadline is Friday, two weeks before the event. Photos/artwork encouraged.
Fernando J. "Marty" Martinez of Loudoun County, senior systems engineer at Northrop Grumman, was appointed to the board of health professions by Gov. Tim Kaine (D).
Chris Gerow of Leesburg took third place in the trebuchet category with his machine, Merlin, at The World Championship of Punkin Chunkin in Sussex County, Del., at the end of October. Gerow's machine catapulted a pumpkin 1,664.9 feet and cameras from the Science Channel captured the feat.
Saloni Vaidya of Ashburn, a nursing major, is one of 36 Marymount University students named to the 2008 edition of Who's Who among Students in American Universities and Colleges are from Virginia.
Ten Loudoun County Sheriff's Office correctional recruits graduated Nov. 13 from the Rappahannock Regional Criminal Justice Academy. The agency's recruits took a majority of the class awards including the session's highest honor.
Recruit Stanley L. Jones received the Ricky L. Timbrook Award, named in honor of a fallen Winchester Police Officer. The award goes to the recruit who personifies the highest standards. Jones also served as the class president. Douglas W. Duhl Jr., received the top academic achievement award. Toby R. Pelt received the award for top skills achievement. Michelle L. Hand received awards for top overall achievement and female physical fitness.
The members of the graduating class for Jail Officer Basic 139 (Middletown) are Duhl Jr., Timbrook, Pelt, Jaclyn K. Hamilton, Michelle L. Hand, Stanley L. Jones, Anna K. McGuiney, Thomas W. Robinson, Sean D. Sumey, Vanessa M. Wick, and Donald L. Williams, Jr.
The new correctional deputies will begin a four-week in-house training program at the Loudoun County Adult Detention Center.
Jessi Ritegno, a 2005 Stone Bridge High School graduate and student at Penn State University, was appointed as a morale captain for the Penn State IFC/Panhellenic Dance Marathon.
Their mission is to beat pediatric cancer by providing emotional and financial support to the children, families, researchers and staff of The Four Diamonds Fund.
Ritegno brought 27 of her teammates to Ashburn in search of donations Nov. 8 and raised $5201.13. To donate or learn more go to www.thon.org.
Lucas Brown, 2001 graduate of Loudoun Country Day School, has been selected as a Rhodes scholar to enter a masters of philosophy in economics Oxford University, England. Currently a senior at Oberlin College, he received attention in the New York Times last spring for creating a living space, which showcased creative ways to save energy, through contests to save water and reduce energy waste in living spaces.
Josh Burnheimer of Ashburn, along with a group of Virginia Tech student leaders and faculty members, traveled to Tecnológico de Monterrey (Monterrey Tech) in Mexico to present at the 2008 International Leadership Conference held from Oct. 22-26. The purpose of the agreement was the promotion and expansion of an international understanding and the development of international friendships among students and staff.
Air National Guard Airman 1st Class Victoria A. Howell, a 2001 graduate of Westlake High School, graduated from basic military training at Lackland Air Force Base, San Antonio, Texas. During the six weeks of training, the airman studied the Air Force mission, organization, core values, and military customs and courtesies; performed drill and ceremony marches, and received physical training, rifle marksmanship, field training exercises, and special training in human relations.
She is the daughter of Jeanie Farman of Blacksburg Terrace N.E., Leesburg and Richard Rico of Scenic Meadow Drive, Waldorf, Md. Howell is a 2001 graduate of Westlake High School, Waldorf.
Stephen T. O'Brien of Ashburn graduated from the Army ROTC Leader Development and Assessment Course, also known as "Operation Warrior Forge," at Fort Lewis, Tacoma, Wash. The 32 days of training provide the best possible professional training and evaluation for all cadets in the aspects of military life, administration and logistical support.
He is the son of Kevin J. and Gail M. O'Brien of Golden Meadow Circle, Ashburn. O'Brien is a 2005 graduate of Stone Bridge High School, Ashburn.
Members of THRIVE, a community service club for middle-school students, collected more than 2,600 pounds of food and supplies for the Loudoun County Holiday Coalition and County Animal Shelter. Students from Farmwell Station and Seneca Ridge middle schools were able to donate the food and supplies due to the support of area Giant stores including Cascades, Ashburn Farm, Purcellville, Potomac Station, Ryan Park, and South Riding.
Sheriff's Deputy Ryan Woellner was among several law-enforcement officers from the region recognized by the Washington Regional Alcohol Program for their outstanding commitment in the fight against drunk driving. Woellner, a two-and-a-half-year veteran, has removed 22 impaired drivers from Loudoun's roadways in 2008.
Loudoun County's second annual online contest "Where's Teddy in Loudoun County?" was recently completed. Participants had to identify the location where Teddy was photographed in a test of local geographical knowledge. Doris Eversmeyer of Sterling placed second and the Hess Family of Ashburn placed third. They both received a bear and a T-shirt. The Hess Family documented their search for Teddy and some of their photos can be viewed at www.loudoun.gov/gis.
More like this story