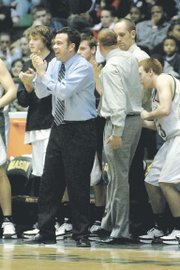 Both the Langley High boys and girls basketball teams were victorious last Friday night in doubleheader hoops action against the host Annandale Atoms.
The Langley girls, under coach Cheryl Buffo, won the first game of the night, 53-49, before the Saxon boys were victorious in a close nightcap affair, 45-44.
Four Langley boys players scored in double figures to lead coach Travis Hess' team to victory. Senior guards Barrett Hunter, Thomas Kody and Jack Mclindon each netted 11 points, while senior guard Derek Baker scored 10.
<b>LANGLEY, IN THE WIN</b>, overcame a 24-18 halftime deficit. The Saxons, the defending Liberty District champions and Northern Region finalists last year, improved their early season record against Northern Region teams to 2-0. Earlier last week, they won over visiting Yorktown, 58-50, in a game played Dec. 9. Baker led Langley in that win with 22 points, while Kody scored 11.
The Langley boys open up their Liberty District season this week with road games at Stone Bridge, Dec. 16, and at cross-town rival McLean this Friday night, Dec. 19.
Friday's game will be part of a girls-boys doubleheader. The Langley girls are scheduled to open the evening with their game against the Highlander girls at 5:45 p.m.
Against Annandale last Friday, the Langley girls led 21-20 at halftime before going on to garner the hard-earned win. Sophomore center Audrey Dotson led the winners with 15 points, while teammate Kristen Kody, a junior guard, added 14 points. Junior forward Alexis Doherty contributed seven points.
The win snapped a two-game losing streak for Langley (2-3), who lost at Yorktown earlier last week, 43-38. No Saxon player scored in double figures in the loss to the Patriots, with Dotson and Doherty both finishing with seven points.
Langley, along with the recent win over Annandale, also has a win over Hayfield. That 53-40 home win over the Hawks came Dec. 5.
Langley was scheduled to host Stone Bridge on Tuesday of this week before traveling to rival McLean on Friday.
<b>MCLEAN'S FIRST</b> boys basketball win of the season last Friday night probably tasted extra sweet for a Highlanders' team that opened the winter season with three straight losses.
"It's great for the kids," McLean coach Kevin Roller said of his team's 72-62 overtime triumph over visiting non-district opponent Centreville.
The coach said the win served as a confidence-builder for his team and what it takes to earn a precious "W." The Highlanders had been struggling in various areas of their game over their first three losses — a season-opening setback to Stuart and two defeats at a tournament in Myrtle Beach, S.C., two weeks ago. One of McLean's biggest problems was its poor outside shooting. McLean, a physically smaller team, has to do a lot of things well, including shooting the ball, in order to be successful.
And McLean's shooting touch from long range came around in the win over the Wildcats.
"Centreville came out pretty aggressive," Roller said. "They had won the night before against Falls Church. We were able to get a couple of outside shots in the second quarter to keep [within] six or seven points."
But Centreville still had a fairly comfortable 28-19 lead at halftime. Both teams, Roller said, played a good third quarter of ball. The game's momentum changed in McLean's favor when senior point guard Peter Brosnan connected on a 3-pointer at the end of the third quarter to pull the Highlanders within three points.
"That really sparked the effort anew," Roller said of the important long-ranger by Brosnan.
<b>IN THE FINAL</b> quarter, the game went right down to the wire. Senior reserve center Ben Glauber (10 points), off an inbounds play, tied the game with a clutch 3-pointer with 15 seconds remaining. Centreville regained the lead moments later, however, by two points.
But on an in-bounds play with six seconds left, McLean junior forward Sean Fitzgerald gathered in a missed shot by a teammate before going up to the basket. He missed the shot, but was fouled with no time left on the clock.
McLean's hopes rested on Fitzgerald, who coolly sank both free throws to tie the game at 56 and force overtime. No players were on the floor when Fitzgerald shot the free throws because regulation was over.
"Everyone likes to say he has ice in his veins," Roller said of Fitzgerald, a standout baseball pitcher for the Highlanders during the spring. "He was all by himself and he hit two to force overtime."
In the five-minute overtime session, Centreville took the lead at 58-56, but the Highlanders did not fall further behind and eventually overcame the Wildcats and won. McLean hit several free throws down the overtime stretch to hold off Centreville and get the much-needed first win of the season.
McLean knocked down eight treys in the win, including five by senior guard Matt Baruch (18 points), two by Brosnan (22 points) and the one by Glauber (10 points) late in the fourth quarter. Six of McLean's 3-pointers came after halftime.
"In the second half we cut down on turnovers and handled their pressure better," Roller said of a key to McLean's ability to get back into the game. "We've got some good athletes who can shoot well if we can spread the floor. When we shoot it well, teams have to extend [their defense]. They had confidence shooting and really that's one of the things we need to do to win — shoot it well."
The coach said his team did feel a sense of urgency going into the game at 0-3. Then, falling behind early to Centreville added to that pressure. But the Highlanders, behind their home crowd, ultimately got into a nice groove.
"When we got down early, the kids kept fighting and believing this is what we have to do to be successful," Roller said of stressing the Highlanders' keys such as continuing to play hard and working the ball around. "They had the commitment to stick with it and didn't get down."
McLean received a good game from senior center Leonard Gjino, who scored eight points.
This week, McLean was scheduled to play at Jefferson Tuesday. This Friday night, the Highlanders will host local rival Langley in a girls-boys doubleheader.