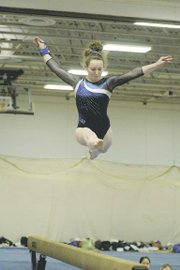 The only member of the T.C. Williams gymnastics team the past four seasons, senior Shannon Murphy has always wanted to get the word out about her sport so others would join her. It's too bad the school isn't doing her any favors.
After nearly every meet she competes in, the morning announcements include some sort of congratulatory message meant to highlight her various achievements.
But they just say "Shannon has a meet today and people will be like, 'We have a team?'", according to Murphy. "A lot of people know I'm a gymnast, but a lot of people have no clue about the team."
The predicament has meant Murphy practices with gymnasts from West Potomac, Jefferson, and Edison during the high school season under coach Pete Novgrad. Because of Murphy's situation, Novgrad agreed to coach her without pay from the school system.
But Murphy and the three other teams have developed a bond over the past several seasons. So while she may be the lone Titan, she's never alone on the mat.
"It's a small gymnastics community," said Murphy. "They are definitely my teammates and the good thing is I go to practice and I'm technically the only one from T.C., but I know I'm going to see 30 different girls there from a variety of different teams, and I know them all now."
<b>LAST SATURDAY'S</b> South Lakes Invitational provided a perfect example of the positives and negatives to Murphy's lone ranger status as far as T.C. Williams' gymnasts go.
She placed first in the all-around competition (vault, uneven bars, balance beam, and floor) with a score of 35.95, but that constituted the entire team score. It meant Murphy finished in first, but her team technically finished in last place in the eight-team meet.
Murphy had the highest score in the uneven bars and finished in second place in the vault, floor, and beam events.
"As far as how she competes [being alone] doesn't affect her at all," said Novgrad. "But it's in the team scores, I'm sure she'd like to have a full team to help that."
Added Murphy: "I kind of miss out on the team spirit thing, but other girls really help me a lot. They root for me, I root for them. We all work together. It's a tough sport, so it helps to have someone cheering for you."
<b>MURPHY IS</b> also a part of the Arlington Aerials club team, which means her winters revolve almost exclusively around gymnastics. She has either a club practice or high school practice with Novgrad every day of the week.
But now that she's in her final year at T.C. Williams, she can't help but wonder what might happen to the already slim pickings that constitute a gymnastics team at the school. Not only will there be no more gymnasts, the dynamic of having other teams adopting a supposed enemy as their own could become a thing of the past.
With a reported $170 million budget shortfall, Fairfax County is proposing cutting gymnastics from the high school sports slate in order to save around $221,000. If that had happened a year earlier, Murphy would have been left in the dust since all three schools she practices with could potentially no longer have gymnastics programs next season.
"I would hate to have all the girls coming into high school miss out on such a good opportunity," said Murphy. "If I had to compete without Edison or without TJ or without West Potomac, I'm not sure I would have done high school gymnastics without them."