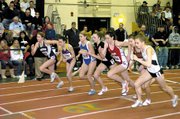 Dan Hayden knows that he's the exception, not the rule. With a daughter that's an accomplished club gymnast who also competes at Herndon High School, Hayden spends between $400 and $500 every month and shells out as much as $5,000 for a five-week camp over the summer for her to compete at a local gymnastics club.
The money is worth it to Hayden because gymnastics has become something Maria Hayden, a junior at Herndon, enjoys. She'd have to. She spends 17 to 18 hours a week doing it.
And then there's her high-school career.
"High-school gymnastics allows girls that don't compete in club to compete," Dan Hayden said. "High-school gymnastics gives them the opportunity to stay in gymnastics, but not commit their whole life to it."
<b>AT A FAIRFAX</b> County Board of Supervisors meeting midway through November, Schools Superintendent Jack D. Dale unveiled three proposals that included cuts to sports as part of closing a $180 million budget shortfall for the school district.
In all three options, girls gymnastics would be cut from the 2010 budget, while indoor track and field was nixed in the most severe case.
"Systemwide we have to make significant cuts," said Bill Curran, Fairfax County director of student activities. "It's one of those situations where you hope for the best and prepare for the worst."
Curran cited the availability of gymnastics at the club level and its declining level of participation as a high-school sport as the two overriding factors. Girls gymnastics is currently the county's smallest sport, with approximately 125 female-athletes total.
But parents and coaches say the sport is growing and it has many benefits for the girls who participate.
"Lake Braddock had the most girls try out this year in 10 years and had cuts for the very first time," said Janelyn Price, whose daughter is a freshman on the girls gymnastics team at Lake Braddock. "I'm very disappointed that Fairfax County is considering something like this."
"Being a gymnast, you learn a lot about hard work, dedication and there's a little bit of perfectionist that's thrown in there," said Angela Peterson, Oakton girls gymnastics coach. "You really understand the work that it takes to achieve at a certain level."
But the hottest point of contention among parents and those associated with the sport is that club gymnastics is very different than high-school gymnastics.
<b>THE COST IS</b> one difference, with the cost of club competition soaring beyond what many or most families can pay. At the club level, the emphasis is on the individual, too.
"On a club team you're more competing for yourself," said Olympian Justin Spring, who graduated from Lake Braddock and won the all-around national championship as a senior. Boys gymnastics was eliminated as a sport the following year.
"When you're competing for your school against other schools, you start to build that team identity," said Spring, who was a member of the U.S. men's gymnastics team that won a bronze medal in the Beijing Olympics this past summer. "I think that's really crucial because gymnastics is a team sport, despite how a lot of people see it."
It's not realistic to think that club competition will be a viable alternative if girls gymnastics is eliminated as a high-school sport, coaches point out.
"I've got 16 girls and not one of them competes at the club level," said Becky Slaight, South Lakes coach. "It's hard because they can't just walk into a club at their age and compete. They can play around and take a class, but they can't compete."
Indoor track and field is the only sport that is offered multiple seasons, with cross country in the fall and an outdoor season in the spring.
"The reason that the athletic department came up with indoor track [as a proposed cut] is because the school system will continue to support outdoor track in the spring," said Dale, the schools superintendent. "So the opportunity to support the sport will still be available."
<b>BUT MORE</b> than 2,700 students participated in indoor track and field last winter, which is the third highest number among sports in Fairfax County. Some participants might want to keep occupied between cross country season and outdoor track and field and others might want to improve their quickness for football or lacrosse.
For some students who play other sports in the spring and fall, indoor track and field provides a shot at trying something new that would not have been possible if not for the winter indoor season.
As a freshman at Westfield High School, Karen Woolley couldn't wait for the spring soccer season to start.
But after a meeting with Westfield's girls soccer coach, who convinced Woolley that she should run indoor track and field to improve her conditioning, soccer lasted only one more season. Woolley was hooked.
Now, she's a heptathlete at Dartmouth.
"We know that Fairfax County needs to tighten its budget. That's a foregone conclusion," said Dan Woolley, Karen's father and president of Friends of Indoor Track (FIT). "The reality is that the wholesale elimination of a sport is not a viable alternative, nor do we think it's a well thought-out decision."
Others, like Edison parent Julie Homes, said that indoor track and field gave her son, Teddy, who's a sophomore at the school, a sense of confidence and a narrowed focus.
For West Springfield parent Debbie Tobin, indoor track and field gave her son, Steven, something to do between cross country and outdoor track and field.
Steven Tobin has Attention Deficit Disorder and chronic migraines. When he began running track and field, the ADD became easier to control and the migraines occurred less frequently.
<b>SHORTLY AFTER</b> the cuts were proposed, Chantilly cross country and track and field coach Matt Gilchrist joined five others in starting a Facebook group to rally support.
As of Wednesday evening, 3,033 members had joined the group titled "Save Fairfax Indoor Track" and 1,978 had signed a petition addressed to Curran, Dale and the Board of Supervisors.
"We've got a grassroots campaign that's building and we know that we don't have a lot of time, but I feel like we're started in the right direction," Gilchrist said.
But is it enough?
County officials originally projected the county budget shortfall for the next fiscal year at $450 million, but it has now ballooned to more than $600 million and could continue to grow. The proposed cuts in these two sports are merely a drop in the bucket, saving only 2.6 percent of the school district's shortfall.
"As big as the budget is, we're insignificant as far as what they're trying to save," said Mike Cooper, W.T. Woodson and Falls Church girls gymnastics coach.
Some, including Woolley and Gilchrist, have championed uniform cuts across the board, so that no one program is completely eliminated.
The School Board will have a budget hearing Thursday, Jan. 21, at 6 p.m., at Jackson Middle School. School Board members are also invited to the FIT (Friends of Indoor Track) Invitational at the Prince George's Sports and Learning Center Dec. 29.
"Let's take a step back and see what other options we have," said Mike Mangan, Lake Braddock cross country and track and field coach. "If we go by the premise that these are a valuable thing for our students, then the next question is how do we make this work?"
<i>Connection staff writers Julia O'Donoghue and Mark Giannotto contributed to this report.</i>