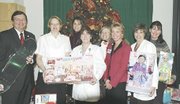 Send announcements or events, which are open to the public at no or minimal cost, to The Loudoun Connection, 7913 Westpark Drive, McLean, VA 22102 or e-mail <a href="mailto:loudoun@connectionnewspapers.com">loudoun@connectionnewspapers.com</a>. Deadline is Friday, two weeks before the event. Photos/artwork encouraged.
The Loudoun Chamber, in conjunction with all of the local public safety agencies, established the Loudoun County Valor Awards Program to recognize and acknowledge those who continuously place themselves in harm's way to ensure the safety of others. The 2009 Valor Awards will be held on Tuesday, April 14, at The National Conference Center in Leesburg. The deadline for nominations is Friday, Dec. 31; visit www.loudounchamber.org.
Jim Hallihan of Leesburg has created a Web site, www.CaptureTheMagic.com, which allows parents to upload a photo of their living room decorated for Christmas and drag and drop in an image of Santa into the room then download it to share with children on Christmas morning. The Web site charges $9.95 for a picture. Capital District chapters for Autism Speaks, the Juvenile Diabetes Foundation and the Cystic Fibrosis Foundation have all signed on to a program that will direct 25 percent of the proceeds of any pictures that are purchased by those who come to Capture the Magic from links on their Web pages or in special e-mails they are sending to their membership. The Web site is actively seeking more charities to partner with.
Inova Loudoun Hospital offers patients, their families and friends direct access to CarePages.com, an online community of people coming together to share the challenges, hopes and triumphs in facing a life-changing health event. Through free, personalized CarePages Web sites, patients and caregivers can relate their stories, post photos and update friends and family instantly. In turn, people who care can send messages of love and encouragement and even virtual "gifts."
The Pink Polka Dot and HairLoom have opened in the Brambleton Town Center, 42395 Ryan Road, Ashburn. The Pink Polka Dot offers items from a number of designers, including Oly and Luna Bella, Glenda Gies handbags, vintage jewelry by Christy Gies and Erica Hardy designs. HairLoom Studio offers styling, color, weaving and hair extensions and waxing services.
Georgia Graves, owner of Bridgman Communications Inc. in Dulles, and Kathy Renton, owner of Lighthouse Concepts LLC in Leesburg, launched a new Web site, www.CurbCost.com, that allows visitors to quickly create and purchase personalized "good deed" gifts for any special occasion.
Middleburg Bank, 43325 Junction Plaza, Ashburn, will serve as a community collection point again this year for the Loudoun Community Holiday Coalition, which collects new gifts including toys and clothing for children, teens, seniors and special adults, grocery store gift certificates, adult gifts under $10 and cash donations. Visit www.loudoun.gov/holidaycoalition.
Inova Loudoun Hospital will donate $100,000 to the Loudoun Community Health Center to help them reach their current fund-raising goal of $300,000 by the end of the year. The Loudoun Community Health Center provides care for those who are underinsured or uninsured and cannot afford to pay for healthcare.
Ashby Ponds, Erickson's newest retirement community in Ashburn, began building a community Sept. 16. By the end of the year, it will be a community of more than 200 residents and 100 staff. Ashby Ponds, which celebrated its grand opening Oct. 2, will eventually become a community of more than 2,000 residents age 62 and up, supported by a staff of 1,000.
The United States Army Information Technology Agency has awarded Telos Corporation of Ashburn a task order to provide Defense Message System support at the Pentagon Telecommunications Center. The one-year contract has a potential value of $13 million and has one option year. Telos will assist with integrating, operating and maintaining a single, integrated Defense Message System at three security levels. The Telecommunications Center is the Army's nerve center in the Pentagon for operating and managing the critical information technology infrastructure related to messaging.
All local area vendors are invited to attend Loudoun County Procurement's 2008 buyer/seller information exchange sessions. These sessions are to provide information on the county's procurement processes and upcoming contracts. The sessions will take place Thursday, Jan. 22, 10:30 a.m.; Tuesday, Feb. 24, 2 p.m.; Wednesday, March 25, 10:30 a.m.; Thursday, April 23, 2 p.m.; Thursday, May 21, 10:30 a.m.; Tuesday, June 23, 2 p.m.
For locations call 703-777-0403 or send an e-mail to Rebecca Kummel at procurement@loudoun.gov.
More like this story