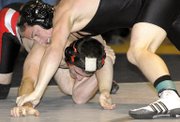 It's a new-look McLean High wrestling team this winter as the Highlanders have a new head coach, Ken Jackson, and a large number of younger team members in the program. But Jackson and his new assistant coaches have every expectation of getting the most out the Highlanders, who a year ago finished a strong third place in the Liberty District.
"We're trying to make the program the best we can make it," said Jackson, who in recent years was a walk-on wrestler at George Mason University, where he just recently earned an undergraduate degree. "The coaching staff is young and the guys are enthusiastic for the future."
Jackson, who has always had a true passion for the sport and a desire to coach, has gotten himself immersed into the McLean wrestling community since getting hired as the coach. He has been involved with the recently created Liberty Mat Club, an organization made up of both youth and older wrestlers who want to grow in knowledge and compete in the sport. He has also built connections within the McLean Youth Athletics wrestling organization.
Building a pipeline connecting McLean's youth wrestlers with the high school is essential to the continued growth of the Highlanders' program.
"We're trying to [connect with and build up] the youth program in the area, that's what it's all about," said Jackson, who would like to be a physical education teacher in the future. "I always knew I wanted to coach and loved the sport of wrestling."
McLean does indeed have a number of younger wrestlers this winter, which is good for the future. The coach said 20 of his 32 team members are first-year high-school wrestlers. Jackson, who has six returning varsity starters from last year, realizes things will have to fall into place to match or better last year's district success. Still, he is optimistic about this season.
"We are shooting for second place [in the district]," said Jackson. "[Having young wrestlers] is good from a long-range goal, but we're just starting to teach these kids. Our main goal this year was to get as many people in the [wrestling] room as we could."
<b>MCLEAN'S TOP</b> wrestler is senior Palmer Dickson (119-weight class), one of four team captains on the squad and the defending district champion at 112. He finished seventh overall at the recent early season Northern Region Wrestling Classic at Fairfax High School.
"He's very patient on the mat and takes what is given to him," Jackson said of Dickson's mat savvy. "He doesn't force anything. He's excellent on his feet and calm and collected on the mat. He's always calm, whether he is behind or ahead."
At the 16-team Harrisonburg Invitational, Dec. 12-13, Dickson finished second overall in his weight class.
Other key members of this year's team include junior Billy Dvorkin (171-weight class), sophomore Andrew Chung (112) and senior Will Stanton (189).
Dvorkin finished third in the district at 171 last year and was a third-place finisher at the recent Harrisonburg meet.
Chung has impressed coaches with his skills and hard work ethic.
"He's a young guy and still learning," Jackson said of Chung. "But he shows a lot of heart and dedication."
Stanton is a tireless worker in his desire to improve and a great example to his teammates.
"Will is our most motivated wrestler and works as hard as anyone," Jackson said.
Stanton, Dickson, Dvorkin and Chung are all serving as team captains this season.
McLean's junior varsity wrestlers were scheduled to compete in a JV Jamboree competition at Lake Braddock Dec. 18. The Highlanders' varsity, meanwhile, was scheduled to participate in a quad meet at Annandale High School Dec. 20.
McLean will participate in the Wolverine Christmas Classic at West Potomac High School in the Mount Vernon area Dec. 30.