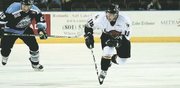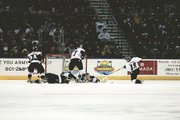 Take a look the state motto for Utah and it's fitting that former West Potomac student and current Alexandria resident James Sixsmith would be toiling away there this hockey season.
Founded by early pioneers that had few material resources, the so-called "Industry" state had to rely on its own resources to simply survive early on. The 5-foot-9, 180-pound Sixsmith can relate.
A star at Holy Cross who ended his career there as the school's all-time leading scorer, Sixsmith helped lead the Crusaders to the biggest upset in college hockey history. As a No. 4 seed, they defeated the No. 1 team in the country, Minnesota, in the first round of the 2006 NCAA Tournament. In basketball terms, it would be like the winner of the play-in game in the NCAA Tournament defeating the No. 1 team in the country.
Now in his second season playing in the minor league hockey ranks, Sixsmith has gotten used to fighting the odds as he tries to become the second NHL player to ever come out of Northern Virginia.
"I kind of just live game to game and just try to get better," said the 24-year-old Sixsmith. "Every day you're just focused on trying to get up to the next level."
<b>BEFORE THIS SEASON</b>, Sixsmith had never been to Utah before. So it came as a shock to his system when he arrived in Salt Lake City to see picturesque mountain peaks and mild weather — even in the winter. Then again, Sixsmith never expected to be there in the first place.
Sixsmith attended West Potomac High School from 1999-2001, but left after his junior year to play hockey at Canterbury Prep in Connecticut to face top flight competition and get more exposure from a recruiting standpoint. His mother, Betty, is currently the field hockey coach at West Potomac.
After his successful career at Holy Cross, he shuttled between the ECHL's Cincinnati Cyclones and the AHL's Milwaukee Admirals in his first full season in the minor leagues a year ago. As a result, he signed a one-year minor league contract with the NHL's New York Islanders, and after a strong preseason, figured he'd be back in the AHL (hockey's version of AAA baseball as compared with the ECHL, which is the AA equivalent).
Islanders' management agreed, except three players the organization was interested in had been released by other teams toward the end of training camp. The team signed all three and assigned them to the AHL's Bridgeport Sound Tigers. Sixsmith lost out on the numbers game.
He's taken the ups and downs in stride.
"Being in Utah hasn't been such a bad thing, I'm playing a lot down here, I'm the one of the go-to guys down here," said Sixsmith. "It's nice not to be playing a more limited role in the AHL."
But if he ever wants to achieve his goal of eventually playing in the NHL, he can't just be an elite player in the ECHL. If he stays in Utah — or something equivalent — the rest of his career, there's really no chance of realizing his dream. Through 23 games this year, Sixsmith leads the team with 20 points (eight goals, 12 assists).
"Do I think he's an (AHL) player?" Utah Grizzlies coach Kevin Colley said rhetorically. "Yes, but he can't get discouraged just because he's not there now. He just has to trust the system."
<b>LIVING JUST OUTSIDE</b> Salt Lake City, Sixsmith has what he calls a "pretty nice set-up." The Grizzlies have every member of the team living in two apartment complexes close together. Sixsmith's roommate is Mike Walsh, who played college hockey at Notre Dame, a Jesuit school like Holy Cross.
And unlike college, Sixsmith's days are almost entirely dedicated to hockey. On non-game days, he goes to the rink around 9 a.m. for a morning skate, practices for two to three hours, and then has a team meal. The rest of the day is his to enjoy. On game days, players have a morning skate and then report back to the arena around 5 p.m.
"You get a lot of time to yourself," said Sixsmith. "There's a lot of down time, and if you don't have a hobby it's just a lot of watching TV. The best part of the job — just playing hockey — can sometimes be the worst."
Making matters worse is that Sixsmith doesn't have a car to get around. He left it in Virginia because he didn't want to worry about bringing it with him should he get called back up to the AHL.
<b>THERE ARE HORROR STORIES</b> about life on the road in other minor league sports. Long bus rides, dingy motels, and fast food for dinner are generally what pass for comfortable accommodations.
But Sixsmith said traveling with the Grizzlies is about as good as one could expect. The team flies to all but a few of its away games.
The worst trip so far this season, according to Sixsmith, was when the team went to Victoria Falls in the beginning of November. To get there, the Grizzlies flew from Salt Lake City to Seattle, took a bus to Vancouver, and finally hopped on a ferry to get to their final destination. In all, it was nearly 12 hours of traveling.
To offset trips like these, the Grizzlies have amenities like an adopt-a-player program, where area fans provide food and gifts to players throughout the season. It's a welcome respite for Sixsmith, who makes much less than the NHL league minimum of $450,000 a year. Club rules prohibit him from disclosing his current salary, but he ball-parked the figure as "one-tenth of the NHL minimum."
Like everyone around the country these days, the economy weighs heavily on Sixsmith's mind. According to the Grizzlies' director of operations, Adrian Denny, the ECHL is like any other sports league, with strong owners that have no problem meeting costs in a tough economic climate.
But there are organizations like the Augusta Lynx in Georgia, which had to suspend operation in midseason. They became the third ECHL team to shut down operations since last season for various monetary reasons.
The Grizzlies play in the ECenter in Salt Lake City, the venue where hockey was played for the 2002 Winter Olympics. Sixsmith said a good crowd is usually around 7,000 fans for the 10,000-seat arena.
"Some areas in the league, you can see the economy wearing on people and different organizations," said Sixsmith. "Empty seats doesn't mean the economy is killing the league, but it'd be foolish to say it's not affecting it at all."
<b>THIS HOLIDAY SEASON</b> will mark the first time Sixsmith can get back to the Northern Virginia area since training here in the offseason. He said because of his hockey career, he hasn't been home for Thanksgiving in years.
The Grizzlies include a bonus in each player's contract that is meant to be money for a flight home around the holidays. Sixsmith will fly back Dec. 21, but has a Christmas morning flight back to Utah at 6 a.m. because of a game on Dec. 26.
But to make it to the place he really wants to go, it will take a lot more than a plane ride. If Sixsmith can get the promotion many think he deserves to the AHL, anything can happen. The Washington Capitals provide an example of what could be. They've called up 10 players from their AHL affiliate in just the past month.
Right now, though, Sixsmith tries to stay focused on what he can control, his play on the ice with the mountains of Utah in the background. But on a minor league journey that seems to present new obstacles at every turn, perhaps the hardest part of Sixsmith's life is not letting the doubt of an uncertain future take over.
"I don't really think about what I'm going to do down the road," said Sixsmith. "You constantly have some kind of goal or some kind of vision in mind. But to be honest, I don't want to be a 30-year-old guy playing in the minors."
More like this story