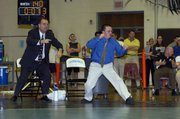 The close of the 2008 Northern Region Wrestling Tournament also brought the close of Fairfax head coach Mitch Sutterfield's 30-year coaching career at Fairfax High School.
"I've had a good run," said Sutterfield. "But you know when it's time to stop."
Sutterfield was an assistant coach for the Fairfax wrestling team from 1977-1984, taking over as head coach of the program in 1984. During his tenure, Sutterfield guided the Rebels to seven district team championships, a region team championship and has coached two individual state champs.
"Half of our team wouldn't be wrestling if it wasn't for Sutt," said Fairfax senior Sam Meyers, who took home the 160-pound title. "He is a great guy. I am glad that I have been able to have him for four years. He has been one of the biggest influences of my life."
Through the years, Sutterfield has become an ambassador for the sport of wrestling, hosting the annual NOVA Classic at Fairfax as well as mentoring younger coaches.
"When I first got into coaching, he was such a nice guy and he took me under his wing in a way," said Westfield head coach Chuck Hoskins. "He was just a great mentor. They don't get any better. I saw how he did things and I learned from him."
Added Fairfax Director of Student Activities Tim Gordon: "This event is because of what he has done. It has basically become a wrestling community because of him. Those kind of things, you can't put a legacy on because it is going to be ongoing. It is not going to stop."