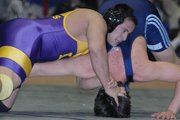 Lake Braddock wrestlers George Billy and Daniel Dressner each took home titles at the Northern Region Wrestling Tournament. While both finished the day as champions, the final match that took them to the top of the podium was anything but similar.
Billy controlled his match against Fairfax's Jake Cox from the get-go, winning by technical fall, 17-1. The Bruin grappler was barely winded as he left the mat.
Dressner, however, found himself in a battle against Yorktown's Chris Dola. With Dressner winning 3-2 with seconds left on the clock, Dola was awarded a point when the referee determined that Dressner was stalling.
"It was the right call," Dressner said after the match.
The penalty sent the match into sudden-death overtime, where Dressner overpowered Dola to score a takedown and earn the win.
When asked what was going through his mind before the overtime period, the succinct Dressner said, "Score."
He executed his plan to perfection.