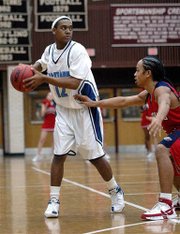 For the Yorktown boys basketball contingent, the script was all too familiar. For the second time in as many years, the Patriots stormed to the National District tournament title, only to drop a gut-wrencher in the first round of the regional tournament.
Yorktown downed Falls Church, embarrassed Edison (by 19 points) and then defeated top-seeded Mount Vernon for the second time in eight days. But that wasn't enough to make it to the Patriot Center, much less the second round of regional playoffs.
The Patriots ended their season with a 52-49 home loss to Madison, the fourth seed from the Liberty District on Monday.
After junior sharpshooter Simon Kilday nailed a three to take the lead late in the fourth quarter, the Warhawks drained their own trey and subsequent free throws to escape with the upset tournament.
Yorktown senior David Grebb, a second-team all-district player, scored a game-high 22 points, connecting on four three-pointers. Kilday, named to the first-team all-district added 11 points on three treys, but no other Patriot tallied double-figures. The Patriots' third scorer, Mike Veith, who averaged 13.7 points in the National District tournament, managed a single basket.
Madison was led by senior Colin Flaherty who scored a game-high 17 points, while seniors Omi Ogolo and Scott Leduc added seven apiece. The Warhawks led 27-18 at the half and outscored the Patriots by 10 points in the second quarter.
Madison traveled to Annandale on Tuesday, with the winner set to play at George Mason's Patriot Center on Thursday.