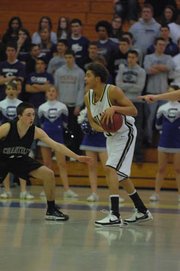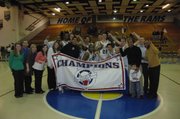 All season, the Westfield Bulldogs talked about putting numbers up. More specifically, the Westfield boys basketball team wanted the numbers "2008" to go up on their district championship banner. The Bulldogs also talked about a two-year championship drought that felt a lot longer for head coach Doug Ewell.
"It feels like forever [since we've won]," said Ewell of the drought that ended with the Bulldogs' 68-56 win over Chantilly in the Concorde District final on Friday night at Robinson Secondary School.
Senior guard Maurice Hubbard was one of only a few players that experienced the Bulldogs' 2005 district title.
"When I was a freshman, I didn't really appreciate it that much," said Hubbard. "This year, I really appreciate it a lot more."
Hubbard earned every bit of the title against Chantilly, scoring 12 points and dominating the board with teammates Jon Gaston and Willie Snow.
"He dominated the boards tonight and that was huge. He just came battle-tested," said Ewell.
The entire Westfield team came ready to play, jumping out to a 16-3 lead after the first quarter and never looking back.
"I was thoroughly shocked. They came and played hard. They were really focused. I think that was the biggest key. Last year hurt them a little bit," said Ewell, referencing the Bulldogs' embarrassing 77-42 loss to Herndon in last year's district final.
Added Hubbard: "We knew what we had to do from the start. We tried to put them away and hold them down."
Senior guard and tournament MVP Jaime Richardson scored a team-high 21 points, with the majority of his opportunities coming off of transition layups.
"He got a lot of fast-break points because of [Hubbard] and [Snow]'s dominance on the boards," said Ewell.
Ewell said that the Bulldogs focused on stopping the Chargers from getting easy buckets, which, in turn, allowed the Bulldogs their share of transition points.
"We thought that the team that would get the more easy opportunities would win the game and we had to work for everything that we got," said Chantilly head coach Jim Smith, whose Chargers split the regular season series with the Bulldogs.
Chantilly's Justin May did his best to keep the Chargers in the game. The junior guard hit five of Chantilly's nine three-pointers and finished with a game high 24 points. Sophomore guard Adam Fridy finished with 9 points, while freshman John Manning and senior Robbie Athearn added 7.
<b>NOTE:</b> Both Westfield and Chantilly, the top two seeds from the Concorde District, fell in the first round of the region tournament that saw 7-of-8 Concorde District teams on both the boys and girls side fail to advance past the first round. The Bulldogs lost to Lake Braddock, 43-38, in overtime. The Chargers fell to Annandale 83-79.