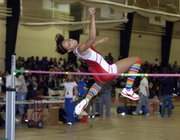 Tynita Butts would have even won a crazy sock competition at the Northern Region track meet, held Feb. 23 on the campus of George Mason University. Butts won a meet-high four individual events en route to catapulting T.C. Williams to second in the girls division — the Titans best finish in over a decade.
Butts won the 55-meter dash, the high jump, long jump and teamed with Ciara Johnson, Victoria James and Chelsa Banks to grab first place in the 200-meter relay.
Butts won the long jump with a season-best 19-0.75 and the 55-meter dash in a career-best 7.19 seconds.
Eva Baker won the pole vault competition, while Amanda Hopson placed third in the shot put. Connie Woods finished seventh and 10th in the triple jump and 55-meter dash respectively.
Lake Braddock won the girls team championship with 78.5 points. T.C. Williams placed second with 63 points and Westfield was third with 56.
Under first-year track coach Marshall Edmonds, the boys finished fifth. The Titans boys placed third in the Patriot District meet at Episcopal on Feb. 6-9, while the girls also finished third. Lake Braddock and West Potomac finished as the top two in each division.
Thomas Clark won the pole vault, giving the Titans winners in both the girls and boys event. Frank Afriyie won the boys shot put, while Marc Grossner finished tied for second in the high jump. Jamal Ford, also the quarterback on the football team tied for second in the high jump and placed eighth in the shot put.