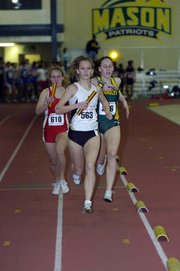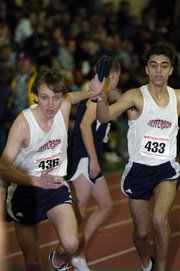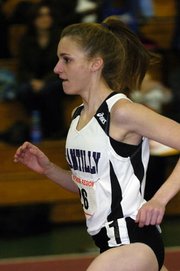 Plenty of Centreville athletes showed off their skills at the Northern Region indoor track and field meet on Feb. 23 at George Mason University. The Westfield boys and girls had the best showing of area teams, with the Bulldog boys and girls each placing third in the team competition. The girls team scored 56 points – 22.50 points shy of first place Lake Braddock. The boys team finished with 51.50 points – 23 behind the Bruins boys.
The Bulldog girls were led by first-place finishers Tasia Potasinski (1000-meter run, 2 minutes, 58.41 seconds) and Kerry Hartman (1600, 5:08.93). Potasinski and Hartman were joined by Brittany Sevachko and Hanna Skahn to win the girls 4x400 relay (4:04.90). Sophomore Kaylin Newman took second place in the girls shot put (37 feet, 1 inch), while Sevachko took fifth in the 500 (1:18.54).
On the boys side, the Bulldogs received impressive finishes from Matthew Davis in the 55 (6.66), Matthew Anderson in the 300 (36.54) and 500 (1:06.00), Kevin Baynes in the pole vault (12-00.00), and Branden Holmberg (48-08.60) and Ty Ruland (47-10.00) in the shot put. Senior David Skahn turned in the Bulldog boys lone first-place with a gold medal in the high jump (6-00.00). Skahn also took sixth in the long jump (20-10.50).
Chantilly's Lia DiValentin continued to prove that she is one of the top distance runners in the state with a first-place finish in the 3200 with a time of 11:12.63. The Chargers also had top performances from Raymond Urrutia (3rd, 300, 36.54) Wesley Sun (2nd, pole vault, 13-06.00) and Amira Idris (4th, 300, 42.44).
Other notable finishers were Thomas Jefferson's Evan Heflin (1st, 3200, 9:36.62) and Centreville's Jordan Grant (1st, 300, 41.12).