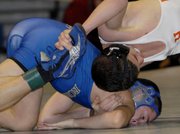 Hayfield, the Patriot District champions, had a state runner-up and two third place finishers at the Virginia AAA state wrestling meet, held over the weekend at Oscar Smith High School in Chesapeake.
The Hawks' top finisher, Raymond Borja, who won the Northern Region title in the 119-pound weight class on Feb. 16, lost a 10-3 decision in the finals match to Colonial Forge's Michael Garofalo.
Colonial Forge, which had four individual winners and a runner-up, won the state title for the second straight year. Lake Braddock's George Billy earned a 4-2 decision over the Eagles' Shane Gentry in the 112-pound classification.
Steven Ours, who lost to Langley's David Helmer in the region meet, battled a 4-0 decision to win third place at 152 pounds. Helmer won the state title, while Westfield's Jake Carey took the 145-pound state title.
Hayfield's Daniel Mills, a district and region champ, grappled to a third place in the 171-pound weight class.
The Hawks placed seventh overall, right behind Langley (76 points) and Westfield (71).