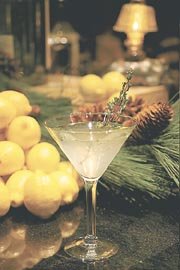 Citrus Sale. Great Falls Lions Club semi-annual sale, 9 a.m.-6:30 p.m. at the Great Falls Volunteer Fire Department parking lot, Thursday, Feb. 28 through Saturday, March 1. Temple and Valencia oranges, pink and white grapefruit available. Profits go to Lions charities.
Cake and Candy Tasting. Preview some of the new year's new flavors. Free tasting the last Friday of the month, including Friday, Feb. 29, 5-8 p.m. at Edibles Incredible, 11919-A Freedom Drive, Reston Town Center. Visit www.ediblesincredible.com.
Girl Scout cookie sales at the Reston Town Center pavilion, Fridays, Feb. 29 and March 7, 5-8 p.m. and Saturdays, March 1 and 8, 1-7 p.m.
Casino Night and Taste of the Town. The Vienna Tysons Regional Chamber of Commerce celebrates Carnivale Saturday, March 1. Tickets are $75, which includes $25,000 of Chamber Cash for gaming and two drink coupons. Discounts for orders of 10 or more. Call 703-281-1333 or visit www.vtrcc.org/casino.
Cookbook author Kay Karim presents Iraqi Cuisine. Cooking demonstration and tasting. Books will be available for purchase. Program is for adults. Saturday, March 1, 2 p.m. at the Dolley Madison Community Library, 1244 Oak Ridge Ave., McLean, 703-356-0770.
Puglia – Festa Regionale at Il Fornaio, 11990 Market St., Suite 106, Reston Town Center. Monthly culinary expeditions through the regions of Italy highlight food and wine from each area. Puglia is featured Monday, March 3 through Sunday, March 16. Call 703-437-5544 or visit www.ilfornaio.com.
Sushi Class. Learn to make sushi with a Japanese sushi chef. Take home what you make; all materials provided. Saturday, March 15, 2 p.m. at Obi Sushi, 1771 Library St., Reston Town Center. $50 per person. Limited classroom, adults only. Call 703-766-7874 for information and reservations. Visit http://obisushi.com.
More like this story