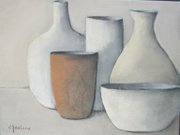 Brazil native and longtime McLean resident Clarissa Jaffe is displaying her paintings in acrylic and charcoal in an exhibit titled "Transition." It runs March 3 through 30, at Stacy's Coffee Parlor, 709 W. Broad St., Falls Church. There will be an artist's reception Sunday, March 9, 3-5 p.m. Call 703-538-6266.
Where are you from originally? Where are you living now?
I am originally from Brazil. I have lived in the United States for over 50 years, 36 of them in McLean where I still reside.
Who are your major artistic influences?
Edward Hopper, Giorgio Morandi, Andrew Wyeth are my major artistic influences.
What do you do when you aren't working on your art?
When I'm not painting I enjoy time with friends, family (specially my three grandchildren) trips to museums, movies etc.
When did you first get inspired to create art? Did you always know that you wanted to be an artist?
I have been drawing for as long as I can remember. Painting started about 30 years ago. My first love was the theater, first as an actor then as a director.
Where do you do most of your work?
I work in my studio in my apartment.
What do you listen to when you work? Is it reflected in the work you create?
I listen to everything from classical to pop, Vivaldi being my favorite. If the type of music I listen to is reflected in my work I am not really aware of it.
Favorite medium to use and why?
I paint with acrylic paints. They suit my type of painting. Lately I have been using charcoal with the acrylic paint which creates a cool effect.
What would you consider the theme of the exhibit?
I call this exhibit "Transition" because I have gone from many years of painting landscapes to painting still life and am probably on my way to something else.
What do you hope viewers get out of the show?
I always hope that viewers come away from my exhibits with a fresh view of what may be very common scenes or objects.