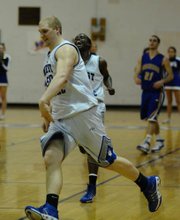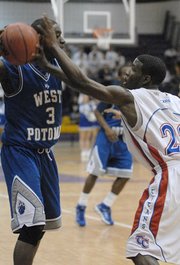 West Potomac nearly accomplished its season-long goal of making it to the Patriot Center for the first time in a decade. The Wolverines' season ended on Tuesday, when Langley, the top seed from the Liberty District earned a 42-39 victory at home.
West Potomac had a chance at a game-tying three-pointer, but couldn't find a look. Langley will play Madison on Friday.
In late January, the Wolverines weren't anywhere near sniffing the regional semifinals, much less the Patriot District championship. In their fourth year under David Houston III, West Potomac dealt with injuries to forwards Robert Byrd and Frank Holloway. Having lost seven of nine district games, the Wolverines were seemingly headed to a disappointing season.
But Houston adjusted the lineup, which was aided by the eligibility of senior forward William Sano, and the players responded when the limelight came on.
"It seemed like when we get into tournaments, we just listen," said 6-foot-9 mammoth center Jimmy Bennett. "It's like our senses are more in tune."
The Wolverines upset Hayfield in the first round of the district tournament, securing their berth in the region tournament for the second straight season. In the second round, sixth-seeded West Potomac avenged two previous losses to Annandale, edging the Atoms 80-69 at Lake Braddock on Feb. 20.
The Patriot District championship was a hiccup as T.C. Williams won its 51st straight district game, routing the Wolverines in an 81-47 victory. West Potomac had a brief first quarter lead, but T.C. Williams came alive, grabbing a 10-point lead at the intermission.
"Even though most people didn't expect us to be here, we did," Houston said.
The top-seeded Titans broke the game loose in the third quarter, with 14 straight points before easily cruising in the final frame. T.C. Williams senior guard Travis Berry was named the tournament's Most Valuable Player, while two other Titans made the all-tournament team.
West Potomac had three players named to the all-tournament team, with senior point guard Craig Gaylord, Bennett and Sano receiving honors.
<b>IN THE REGION TOURNAMENT,</b> West Potomac easily displaced Robinson, the third seed from the Concorde District in the first round with a 69-53 home victory.
Bennett scored a game-high 23 points, while Gaylord (16), Sano (13) and Byrd (10) all totaled double-figures.
All four Patriot District teams advanced in the first round.
West Potomac finished 14-12, which is their highest win total since Houston took over. The Wolverines won the Mount Vernon Holiday tournament for the first time since 1994, and only the third time in the history of the tournament.