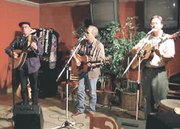 The Harley String Band, consisting of Jim Johnson, Steve Coffee and Jim Clark, will be performing on Tuesday, July 10 at The Athenaeum, in conjunction with Second Thursdays. More information on the band can be found at www.harleystringband.com.
<b>How did you get your start in music and how long have you been performing?
</b>We're old farts that have been playing casually for many years, but each of us has begun writing in earnest over the last five or so years and performing together for a couple.
I used to play in Arlington schools in character as "the Garbageman," singing about recycling and the environment. The kids would send me these great thank you cards that they made.
<b>If applicable, How were your musicians chosen?
</b>We met through the Songwriters Association of Washington.
<b>What is it that you love about performing?
</b>The stage fright. Seriously, it's the opportunity to see people respond to something you've created. We'd all love it if someone famous covered our songs, but until that happens, we'll just have to keep playing them for anyone who'll listen.
<b>What is your best memory when it comes to music?
</b>Hmm. Would it be listening to my grandparents harmonize on "Swing Low Sweet Chariot" or seeing Sly and the Family Stone at age 16. (I want to take you higher.)
<b>Where is your favorite place to play, either publicly or personally?
</b>I think our favorite place is the Falls Church farmers market. It's totally spontaneous and unplugged. People sit around in the shade, make requests, interrupt us--and throw money at us.
<b>Best compliment about a performance?
</b>Well, once a listener told us that we played a Beatles song better than the original version. Now that was a compliment! And, watching little kids dance to our music at the Farmers Market is a real kick.
<b>What is your favorite piece of music and why?
</b>Impossible for me to say. There are way too many favorites. I've been listening to a lot of music for over fifty years. There are hundreds of favorites in many genres. It's like trying to pick your favorite child.
<b>Who would you love to play with? Why?
</b> I'd like to sing with EmmyLou Harris before I die.
And I would have liked to try and co-write with Townes Van Zandt befored he died. Why? Because of the depth in his writing.
<b>Describe your sound:
</b>I think we have a sound that is familiar and comfortable, yet hard to classify.
<b>Biggest musical influences:
</b>This is always a tough one. I don't sound at all like the artists I love. As a band, I'd say we're steeped in the singer-songwriter tradition and in the Celtic/Appalachian style, but we're also influenced by the British invasion.
<b>Where have you toured?
</b>Umm, metro DC.
<b>Anything special about the upcoming show at the Athenaeum?
</b>This is the release party for our first "grownup" CD, "Didn't Come to Stay Long." Our first CD was a children's album.
<b>Future plans:
</b>Keep on playing and writing. We've been doing it for a long time and it's still fun.
<b>What would you recommend to someone starting out in the business?
</b>Don't wait until you're old. But if you are old, don't wait any longer.
<b>Any parting thoughts?
</b>Just to encourage interested folks in the community to seek out and support the local music scene. There are a lot of talented musicians in the D.C. metro area. Also, to thank the Northern Virginia Fine Arts Association for hosting the concert series at the Athenaeum.