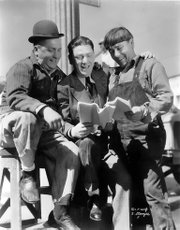 <b>FOR THE SIXTH YEAR</b> in a row, the Slapsticon Film Festival is coming to Arlington.
<p>The festival, which is being held later this month at the Rosslyn Spectrum, is a four-day extravaganza of comedy films from the early 20th century. The festival focuses on rare and obscure films, many of which had been lost and hadn't been shown for decades.
<p>This year, the festival will be holding screenings of dozens of rare Three Stooges films, including TV clips, home movies and, according to the festival's Web site, "other Stooges ephemera."
<p>Slapsticon coordinator Robert Farr talked about what the festival is, who it appeals to and why the legacy of Three Stooges continues to grow.
<p><b>What is Slapsticon?</b>
<p>It's four days devoted to silent comedy and early sound comedy. We concentrate on the comedians that most folks haven't heard of because we feel like we really want to get their work out there. There was some great work being done by people other than Charlie Chaplin, Buster Keaton and Harold Lloyd. We have relationships with a lot of the archives so we get stuff from the Library of Congress and UCLA. And we have relationships with the studios so we get stuff from Columbia Pictures and Universal. Private collectors make up the rest of it.
<p>People come from all over the country. They love this stuff. We also get folks walking in the door for the first time being introduced to this stuff. It's from nine in the morning until one in the morning, wall-to-wall comedy from what we think is the golden age of comedy.
<p><b>Who is the main audience for Slapsticon? Who are the die-hards who come every year?</b>
<p>A lot of them are collectors. They are serious researchers and writers. But for the most part, the die-hards, the ones who will show up in the morning and won't leave their seats until one in the morning, are people who could talk about Lupino Lane or Larry Seaman or Monty Banks or these obscure names that for the most part have been forgotten. They talk about them like they're old friends. They can't get enough of this stuff.
<p><b>So the theme this year is the Three Stooges?</b>
<p>For the opening, we're showing a lot of obscure, oddball clips from Stooges stuff that hasn't been out there on the market like some television shows they made in the 1950's, commercials they made, newsreels. The guy who's putting this together has found stuff that even the most diehard of Stooge fans haven't seen yet.
<p><b>Is there a lot of stuff out there that's lost that we don't know about?</b>
<p>The stuff that everybody knows are the Columbia comedies. That's the stuff that everybody grew up on. What people aren't as aware of is that during the 1950's and 60's they were constantly on television. Because of the state of preservation of old time television, a lot of that stuff has been lost. Collectors are now finding this stuff.
<p><b>Why are the Stooges so popular? Where does their staying power come from?</b>
<p>I wonder about that myself. They weren't as great artists as say Chaplin or Keaton but they're really beloved. Curly really appeals to the children because he was just a big, overgrown child. Most people discover the Stooges when they're kids and immediately they understand Curly. Curley is pure id.
<p><b>Why has Slapsticon really thrived in Arlington? Is there something about this region that really lends itself to the showing of obscure silent comedies?</b>
<p>I'm not sure. If you're going to pick a good place on the map to do this I'm not sure the Washington area would be the first place you'd pick to do this. But there are a lot of people here who appreciate cultural history and are not necessarily turned off by seeing a black and white film that was made 80 years ago. We're a good film town because we've always had the American Film Institute, the National Gallery screenings, the Library of Congress screenings. And so there is an audience here that is used to seeing classic silent films.
<p>But really, the only reason it's here is because Arlington County has been generous enough to give us the Rosslyn Spectrum theatre for four days. I'm not sure we'd even be able to financially survive if we had to pay rent for that.
More like this story