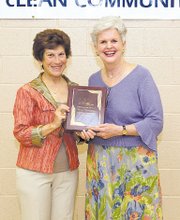 The Friends of the McLean Community Center organization has named local real estate professional and community supporter Betty Thompson as the recipient of its 2008 "Friend in Deed" award.
Thompson is the 15th person to receive this recognition "with gratitude for outstanding leadership and support of the McLean Community Center." She received a certificate of appreciation at the Friends annual open meeting on Monday, June 9, at the Center. A plaque with her name will be added to the "Friend in Deed" wall in the Center's main lobby.
Thompson, an associate broker at the McLean office of McEnearney Associates, has served as president and vice president of the Friends organization in recent years, planning and organizing activities to benefit the Center. She is also on the board of the McLean Project for the Arts, which is in residence at the center. Thompson and her husband, Charles Thompson, have resided in McLean since 1974, and she is the mother of three grown sons. Over the years, she has volunteered for a variety of community and school organizations, including the Franklin Area Citizens Association, and is a member of the McLean Chamber of Commerce.