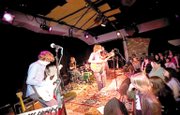 Vienna-based band MHR has created a singular blend of hard rock, southern blues, and classic rock-influenced vocals that has garnered praise from local critics and venue owners. MHR, which stands for "Moon Hostage Rebellion," has just released its debut studio album, "Potter Hollow," produced by Shane Hines of Shane Hines and the Trance.
MHR has played in a variety of local venues, including Jammin' Java in Vienna, TT Reynolds in Fairfax, and The 8x10 in Baltimore. They have performed with a number of locally and nationally touring acts, such as The Von Bondies, Shane Hines & the Trance, The Beautiful Girls, Kill the Alarm, The Cliks, the Blackjacks, The Hint, and The Drugstore Cowboys. Also, two of their songs have recently been licensed for use in the horror film "Circle."
THE BAND began with Justin Wilder (rhythm guitar and lead vocals) and Paul Hanna (bass guitar) playing as a bass/acoustic guitar combo in Hanna's basement. It then added Justin's younger brother Mike Wilder (lead guitar), Sam Rees (drums) and Andrew Stevenson (guitar, piano). Though Justin Wilder now goes to American University and Paul Hanna to Savannah College of Art and Design, both graduated from James Madison High School in 2006. Mike Wilder and Andrew Stevenson are currently juniors at James Madison High, and Sam Rees is a junior at Marshall High.
According to lead vocalist Justin Wilder, MHR has many musical influences but "the ones that are most evident on 'Potter Hollow' are The White Stripes, Kings Of Leon, The Beatles, and Wilco."
Each band member has his own musical inspirations. Sam Rees, MHR's drummer, said, "My playing is heavily influenced by Rick Hodes, my percussion instructor for several years, Kevin Bearce of the local group Shane Hines & The Trance, Charlie Watts of The Rolling Stones, Ringo Starr of The Beatles, Longineu Parsons of Yellowcard, and George Grantham of Poco. I also listen to a lot of the White Stripes, Squeeze, XTC, as well as some older influences from growing up in the '90s like The Red Hot Chilli Peppers, Green Day, and Blink-182."
"POTTER HOLLOW" includes a range of musical styles, from the retro pop sound of "Yeah, You Can Love Me" and the melodic softness of "I Will Call Out" to the hard rock sounds of "When You See Right Through Me" and "Black Moon." Each track on the album has a distinct sound and style, demonstrating the band's versatility.
When asked to define the band's sound, every band member responded differently, because MHR embraces so many styles of music. Bassist Paul Hanna described MHR as, "a blues rock garage band with killer bass lines," while Sam Rees called MHR's music, "a dirty cross between older British classic rock and modern Detroit garage."
<i>MHR's next gig will be at Jammin' Java on July 19. Contact them at mhrmusic@gmail.com or visit its Myspace page at www.myspace.com/mhrdc. "Potter Hollow" can be purchased in MP3 format through iTunes.</i>