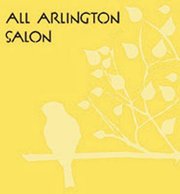 <b>THE ELLIPSE</b> Arts Center's upcoming exhibition is the All-Arlington Salon, an event that seeks to change how art is displayed in the county.
<p>For the event, Ellipse will hang all submitted 2-D and 3-D works of art (of a reasonable size), no questions asked.
<p>"It's kind of a fun show because it really brings the community out," said Mary Briggs, a manager with Arlington County's Department of Cultural Affairs. "People enter the show and then they bring their friends … It opens up the gallery to many more people."
<p><b>ONE OF THOSE</b> people is Kayla Scheiner. Scheiner, 23, is a recent graduate of Mount Holyoke College and an alumna of Yorktown High School who grew up in Arlington.
<p>She'll be submitting "Transparency," a watercolor and mixed-media piece she created, to the All-Arlington Salon. This will be the first time she has shown her work in a non-academic setting.
<p>"I heard about it and figured it would be a fun thing to do," Scheiner said. "I haven't shown in a setting like this before."
<p>Scheiner got the idea to enter the salon from her mother, Judy Scheiner, who works in Arlington County's Department of Cultural affairs.
<p>"She just graduated from college with an English major and an art minor," Judy Scheiner said. "She's done lots of art for herself but hasn't gone the route of trying to sell it. I told her about this and she said 'Sounds good, let's do it.'"
<p>"I'm not shy about performance or showing art in public," Kayla Scheiner added, "So any excuse [to show] I'll jump at."
<p><b>BRIGGS</b> said that it is this kind of spontaneous spirit and anything-goes mentality that makes the All-Arlington Salon such an exciting event.
<p>"Sometimes it knocks your socks off in a good way and sometime in a not so good way," Briggs said.
<p>She recalled a few years ago when someone brought in a sculpture of a helicopter made out of old bottle caps and wood. "It was pretty cool," she said. "It was like recycled art."
<p>But regardless of the quality of art that gets submitted, the event is important, Briggs said, because it encourages more people to get involved in the arts.
<p>"It's a very democratic show," she said. "It democratizes the whole process. [And] it's kind of a good time."