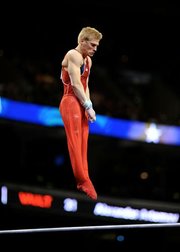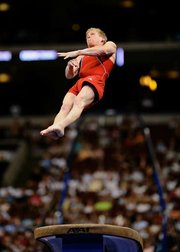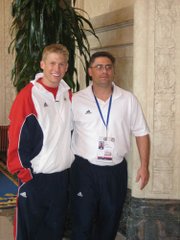 Debbie Spring vividly recalls taking a day off from Oak View Elementary to watch her son, Justin Spring, perform his high school National Champion high bar routine during a pep rally when he was a senior at Lake Braddock.
Justin Spring, maybe trying to impress his Bruin classmates, sprained his ankle in his warm-up, and was unable to publicly perform the routine.
Fast forward six years later, and that Lake Braddock audience, once pining for his performance, will likely get a grand view of the world-class gymnast in his element. This time though, the charismatic kid from Burke will be competing in the Beijing Olympics.
"It doesn't even click," Justin Spring said from his office at the University of Illinois. "This is the Super Bowl of gymnastics."
One of only six gymnasts chosen after the U.S. Team Trials meet last week in Philadelphia, he, and his family, is still trying to saturate how exactly it happened — how an admittedly once-immature bundle of energy from the doorsteps of the nation's capital now has a chance to medal in four separate events.
"I'm prouder than proud," Debbie Spring said on Tuesday. "All of a sudden now that he actually made it, I wake up in the morning and the first thing that pops into my mind is, 'did this really happen?'"
Justin Spring, who started gymnastics at 3-years-old, is still pinching himself, even sometimes wondering if his dream is an actual reality.
"The support from all over has been amazing," he said from his office at the University of Illinois. "I've got a lot of phone calls from Lake Braddock people that I haven't spoken to since sophomore year in high school."
<b>AS FEW AS</b> three weeks ago, Justin Spring's storybook season suddenly had a sobering reality. While training in Colorado Springs, Colo., he experienced shooting pains in both legs. Already dealing with bulging discs in his lower back, coupled with four surgeries over an 11-month span, the initial doctors called for possible emergency surgery.
"I looked at where I was with all of the injuries, and I figured that I'd just stick it out for four more years to try to stay healthy for the 2012 Olympics," Justin Spring said.
His parents started to caution the extended family and entourage already planning the trip to Philadelphia for the Team Trials, even resigning themselves to waiting four years for the London Olympics.
"I tried to say, 'if it doesn't happen, it's okay,'" Debbie Spring said. "He's a winner already in my mind with where he's taken himself in gymnastics. You have to keep telling yourself that. We thought, that most likely, that was going to be it for him."
But two days later, the pain substantially subsided, and the four-time NCAA national champion, was back on his feet. Well, not entirely.
Ten months earlier at the World Championships in San Jose, Calif., while attempting a difficult vault, the parallel bars 2007 Pan American gold medalist, tore his anterior cruciate ligament. So he resisted tumbling for eight weeks prior to the U.S. Team Trials, an unorthodox move for an aspiring Olympian.
"It was hard to watch with all of the injuries he had," said Dan Gill, a former U.S. Senior National gymnast who went to Robinson. "It was hard to see with all of this potential. He had the pieces together, but was running into bad luck."
Even heading into the meet, Justin Spring wasn't entirely sure his body would even hold up. Originally he didn't plan to compete in the floor exercise, but wisely did, getting the second-highest of the first night with a 15.200 score. He also had solid performances in the high bar, still rings, vault and parallel bars, leading up to a tense time in the Marriott Courtyard hotel when the final six were selected.
The U.S. Olympic committee delayed the original decision, and after walking through local stores and signing autographs, he finally heard his name, along with Joseph Hagerty, Morgan and Paul Hamm, Jonathan Horton and Paul Tan.
"That was the most nerve-wracking six hours of my life," Justin Spring said. "And coming off the injured couple of years, with the complete 180, it was a roller coaster of emotion. It was pretty wild."
<b>SPRING WAS A</b> rambunctious kid, one full of potential, but one that was also full of life. Competing as a kid for Capital Gymnastics in Burke, his coach, Carlos Vasquez and Gill, who he considers to be a mentor, both knew the Olympics could be a possibility.
"When he was seven, you could see the possibilities because he's always been explosive and very wiry," Vasquez said. "He's always been bouncing off the walls. When he was younger, he was all over the place and almost out of control, but when he turned 13, he really turned it around.
"There was always a doubt that he would reach this level of success, but there was never a doubt he could reach this level of success," Gill, who now works for a technology start-up company in San Francisco after he was forced to end his career following a second shoulder surgery. "He's always had the talent, even when he was very young, he was explosive, but it took him maturing and understanding the sport takes a certain level of dedication."
Spring competed won the all-around national championship as a Lake Braddock senior, but the sport was discontinued afterwards. It was then that he headed to the University of Illinois, where he struggled his freshman year.
But in trying to win the NCAA team championship as a sophomore — the Fighting Illini finished second — his parents saw a turnaround.
"Then midway through the sophomore year, he started to focus and do good things," Debbie Spring said. "It started to really take off for him after that."
Despite not getting his team national title, he earned several individual accolades, becoming 2006 Big Ten Gymnast of the Year, a 12-time All-American, as well as joining international competition in 2005. After graduating in 2006, he is now an assistant coach, marrying recruiting with still being able to train.
"The only way I can explain it is that I love my life right now," Justin Spring said. "It's been a dream come true."