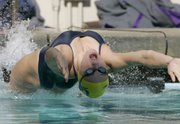 Emily Verdin will once again lunge from the Omaha, Neb. starting block on Friday,
this time in the Super Bowl of swimming. Surrounded by the nation's most elite swimmers, the Mount Vernon native will swim the 200-meter backstroke, her signature event, gunning for a top-two finish to represent the United States in the 2008 Summer Olympics.
Verdin, given her prior times, is seeded in the mid-70s, and realistically has little shot of making the team. But just being there, especially with her prior physical obstacles, is extraordinary enough.
"Making the trials has always been a dream, and just being here and being able to go best times — it's pretty awesome," Verdin said on Tuesday.
Verdin, the middle child of Peter and Patty Verdin, developed a hip abnormality as a newborn, a symptom known as septic hip, when too much friction in the joint causes structural abnormalities. She spent much of her first month in the hospital, and had a brace on her leg during her baptism.
But the hip healed, and though it developed abnormally, Verdin still maintained a normal lifestyle, playing basketball and soccer. The athletic drive flourished mostly in the pool, when she followed older sister, Erica, as a standout swimmer for the Potomac Valley Swimming Association.
Verdin moved on to Thomas Jefferson, and it was there that she decided to focus full-time on swimming. As a junior, she shattered the Virginia state record in the 200-meter individual medley (2:19.61), helping the Colonials to the girls state title.
<b>DECIDING WHERE TO</b> attend college, Princeton pursued the molecular and cell biology major hard, but Cal came calling. With her older sister already playing lacrosse there, she couldn't resist the allure to the Bears, an elite swimming school.
"I knew I had so much more potential," Verdin said about when she was a senior at Thomas Jefferson. "I couldn't have imagined having the experiences I've had over the past four years since I was a senior in college. It's been a whole new environment."
During her freshman season, she was an honorable mention All-American in the 200-yard back, placing 15th nationally (55:13). But the hip trouble became a nuisance, especially after kick-heavy exercises. She tried to compensate, by strengthening her legs, but the grinding force on her hip was too much to maintain. She first tried therapy, which sometimes caused her to miss class, but it became evident that wasn't a long-term solution.
So she decided to seek surgical help. She received advice from her orthopedic surgeon father, along with specialists across the country, all of whom had trouble identifying the root of the injury. She settled on Tacoma, Wash.-based Keith Mayo, who performed the surgery in October 2005.
The recovery meant that she was bedridden for eight weeks, thus forcing her to take the semester off of swimming and school.
"Having swimming really helped me after my surgery because it gave me a goal and something to work towards," Verdin said. "Even when I was hurting or having a rough time getting around, I never really thought that I couldn't get back. It was just a matter of when."
<b>THE NEXT SEASON</b>, Verdin was healthy again, finishing ninth nationally in the 100 back (55.13) and 10th in the 200 back (1:57.25). As a team, Cal finished fifth.
And now 32 months removed from surgery, she's at the U.S. Olympic trials. She swam the 100 back on Monday, and though she didn't qualify for Beijing, she was content with her effort.
"My coach says, 'there's something enchanting about the Olympic Trials, just having the word Olympic in front of everything'" Verdin said. "It's a career milestone. It's a really good feeling personally. It's been hard and it's something no one else can understand unless you go through it yourself, but it's been worth it."
For her family, who will soon uproot to Seattle, Wash. and will send their youngest, Peter, to play baseball at the University of Georgia next season, seeing Emily Verdin perserve has been satisfying enough.
"Most kids after that hip operation would have just thrown in the towel," said mother Patty Verdin, a former gymnast at the University of Michigan. "That's a miracle in itself."