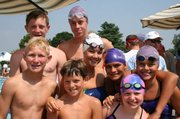 The Franklin Farm Froggers took second in the CSL All-Star Relay Carnival at Sugarland Run on Sunday. The Froggers won three relays on the day and scored 386 points to take the silver. The Froggers, the defending Relay Carnival champs, were edged out by Ashburn Village, which won eight events and scored 456 points. The Burke Centre Penguins finished in third with 310 points. Cascades (302) finished fourth and South Riding (252) rounded out the top five. The Ashburn Village mixed 9-10 100-yard freestyle relay of Helena Wang, Will Sherman, Austin Chen and Andi Mack broke the CSL record with time of 2 minutes 8 seconds.
<hr>
Lakevale Estates claimed their first Division 6 victory of the season, beating Hunt Valley, 227-175, on July 5. Double winners for Lakevale were Gregory Waldron, Sidney Miralao, Mallory Dyson, and Cassidy Humphrey. Single winners were John Dyson, Christopher Hines, Joe Capra, Derek Perez, Nicholas DiMeglio, Thor Hartwick, Joseph Ritter, Isabella Maggio, Danielle Humphrey, Beverly Dobrenz, and Kristi Sturgill. Two Lakevale team records were broken. Cassidy Humphrey broke the 11-12 girls 50 backstroke record. The team of Beverely Dobrenz, Julia Choudhury, Liz Zolper, and Danielle Humphrey broke the team 15-18 girls medley relay record. On July 12, Lakevale Estates brought their record to 2-2, upsetting Mount Vernon Park, 202-200. Double winners for Lakevale were Liz Zolper and Thor Hartwick. Single winners were John Sturgill, Christopher Hines, Cassidy Humphrey, Joe Capra, Danielle Humphrey, Beverly Dobrenz, Derek Perez, Kristi Sturgill, Nicholas DiMeglio, Phillip Dobrenz, Jackie Fitzella, Bobby Headrick, Julia Choudhury, Mallory Dyson, Joseph Ritter, Paul Headrick and Charlie Webb. Lakevale swimmers broke eight team records on Saturday. Cassidy Humphrey broke her own 11-12 freestyle and butterfly records. Danielle Humphrey broke her own 15-18 freestyle record. Liz Zolper broke her own 13-14 butterfly record. Beverly Dobrenz broke her own 13-14 backstroke record. Isabella Maggio, Lauren Perez, Mallory Dyson and Kenzie Hines broke the 9-10 girls 100 medley relay record. Beverly Dobrenz, Jackie Fitzella, Zolper and Cassidy Humphrey broke the girls 13-14 100 medley relay record. The girls mixed age relay of Humphrey, Dyson, Zolper, and Humphrey once again broke their own record.
<hr>
Cardinal Hill, 3-1, defeated Langley, 219-183, on Saturday. Megan Perry set a new team record in 15-18 breaststroke with a time of 37.15 second. Double winners for Cardinal Hill were Kelsey Gaydos, Alyssa Knauf, Scott Carpenter, Brian Leibowitz, Garrett Smith and Grayson Smith.
<hr>
On Saturday, in Dominion Country Club Swim League action, the Westwood Country Club Whirlwinds took sole possession of first place in the league with a convincing 306-210 victory over the previously undefeated Lowes Island Country Club Lightning. Westwood moved to 4-0 in the DCCL. The Whirlwinds can clinch the league championship on Saturday with a victory over tough rival Fairfax Country Club. The four-event winners for Westwood where Kayla O'Malley, Matt Callahan, Laura Kellan and Alec Dolton. Palmer Lloyd was a three-event winner for Westwood. The two-event winners for Westwood were Victoria Tilson, Audrey Kellan, Spencer Brayman and Zach Roeder. Natalie Brendsel, Tom Fenninger, Erin Callahan, Ian Anspach, Molly Anspach, Chase Barrand and Krissy O'Malley were single-event winners. On July 12, Westwood finished second to Fairfax Country Club in the DCCL Relay Carnival. League records set by Westwood over the weekend were the boys mixed age 200 freestyle relay team of Matt Callahan, Tom Fenninger, Alec Dolton and Palmer Lloyd set a record with a time of 2 minutes 0.79 seconds. The boys and girls mixed age 400 freestyle relay team of Fenninger, Callahan, Dolton, Lloyd, Mallory Lutz, Laura Kellan, Victoria Tilson and Natalie Brendsel broke the record with a time of 4:12.00. Laura Kellan set individual Westwood records in the 50 backstroke with a time of 34.82 and the 100 individual medley with a time of 1:15.81. Tom Fenninger set an individual Westwood record in the 50 freestyle with a time of 27.12. The girls 11-12 and boys 15-18 relays also set new records.
<hr>
The Shouse Village Sharks (2-2) defeated the Popular Tree Pirates, 206-196 in close NVSL Division 9 meet. Double winners for Shouse Village were Sinead Eksteen, MJ Minutoli, Ellie Springsteen, Annie Springsteen and John-Howard Sidman. Sidman broke the team record for boys 15-18 butterfly with a time of 27.55 seconds, eclipsing the previous record time of 27.86 set in 1985.
<hr>
The Oakton Otters defeated the Hunter Mill Sharks, 211-191, in a Division 2 meet that came down to the last two relays on Saturday. Double winners for the Otters were Jamie Liddell, Michael Ambrose, Laura Branton, Kathleen Smith and Nick Highman. Single winners were Lindsey Liddell, Brendan Power, Jodi Koplaski, Ashley Doran, Jacob Thompson, Carter Sharer and Allison Maher.
<hr>
The Dunn Loring Dolphins dive team defeated fellow Vienna pool Cardinal Hill, 41-31, to maintain its undefeated record in NVSL Division 1 Diving. Dolphin divers took three of eight firsts, seven of eight seconds and five of eight thirds. First place finishers for Dunn Loring were Devid Tecala, Kelly Corish and Cassie Self. Earning second place finishes were Chelsea Taylor, Johnny Corish, Patrick Lucent, Katherine Van Winkle, Jimbo Briody, Maureen Reed and Tommy Driver – who set a Dunn Loring record for senior boys. Placing third were Macy Blakely, Emily Reinhart, Jessica Taylor, Sean Ryan and Patrick Reed. Cardinal Hill first place divers were Maxine Nussbaum, Bryce Shelton, Morgan Stahl, Zach Stahl and Alex Asta. Sydney Shelton earned a second and Liam Colwell, Ian Rusiello, and Kelly Crider placed third.
<hr>
On Sunday, July 13, 109 divers from across the region competed in the Northern Virginia Diving League within the NVSL held the 41st Annual Wally Martin 3-Meter Championship. The divers represented 31 of the league's 47 pools from across Fairfax and Arlington Counties, and the cities of Falls Church and Alexandria. The meet is named in honor of Wally Martin, who was the dive coach at Tuckahoe in McLean. Wally was one of the leaders who brought diving to the NVSL in 1961. Divers, ranging in ages from 8 to 18, competed in four different age groups. Kim Pilka of Great Falls won the senior girls event with 219.30 points. Trevor Michalak of Ilda Community won the senior boys gold with 238.95 points. Maggie Cullather (Camelot Community Club) and Nathan Michalak (Ilda Community) won the intermediate girls and boys titles, respectively. Allison Stickel of Vienna Woods won the junior girls with 135.12 points, while Alex Daloane of Truro Homes Association won the junior boys with 102.09 points. Fairfax Station's Teal Schuppin won the freshman girls and Lee Graham's Tucker Smith won the freshman boys.