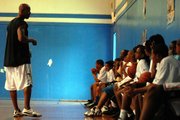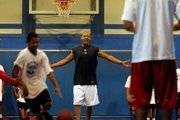 The apartment that Keith Bogans was raised in — at 601 Payne St. — is still less than two blocks from the brick-based Alexandria Boys & Girls Club. In the past decade-plus, neither façade has changed drastically. His childhood condo's exterior has faded over time, but mostly remains in tact as it did 15 years ago.
At the club's gym, sunlight still pokes through the muggy room with irregularity, as the flanked open doors double as ventilators despite 90-degree summer heat. Adolescents still scream and impressionable boys continue play on the weary, slanted basketball rims that make carnival hoops appear normal.
Only Bogans changed.
He still remembers the countless hours he spent playing, sometimes even making his mother or grandmother drag him home from the center. As an 11-year-old, Bogans was the talk of the town, an up-and-coming Alexandria athlete with rare skills, combining a sense of speed with a willingness to win.
It's 15 years later, and Bogans' biceps are bigger now that he is a starting shooting guard for the Orlando Magic.
"I told the kids the other day that when I come back into this gym — it's the same gym I used to come into as a kid — that when I was their age, I was dreaming of being in the NBA," Bogans said. "The other day when I was coming over here, I had a chill going through my body."
Without much publicity, the 6-foot-5 multi-millionaire spent two days last week with approximately 50 kids from the Boys & Girls club, as part of the first annual Keith Bogans Basketball Camp.
Bogans enlisted the help of Maurice Sumter — a 2003 T.C. Williams graduate who just finished his first season playing professionally in Holland — along with a few other pros to give the sometimes-disadvantaged kids a chance to interact and hone their skills.
Bogans ran drills, gave pointers and even challenged willing campers to quick games of one-on-one.
"It's something that I never had," Bogans said. "When I was growing up, I never interacted with an NBA player or professional athlete. If I can come back around and let the kids interact with me, touch me, talk me or ask me any question they want, I know how far it can go as a child. That's one of the main reasons I came back."
<b>AS AN EIGHTH GRADER</b>, Bogans peered across the gym, only to see Morgan Wootten, the then-legendary head coach at DeMatha Catholic, scouting him. That was enough to persuade him to spurn T.C. Williams.
"Once I saw him in the gym scouting me as a player, it was a no-brainer. I was going to DeMatha," Bogans said.
At DeMatha, Bogans was a 6-foot-4 terror, helping the Stags to a 34-1 record and a No. 3 national ranking as a senior in 1998-1999. Teaming with then-junior Joseph Forte, Bogans helped DeMatha reclaim the Washington Catholic Athletic Conference (WCAC) Title — Wootten's 31st — the D.C. City Title, and the postseason Alhambra Tournament in Cumberland, Md.
"It was unbelievable to win all of those games," Bogans said. "To be able to go to DeMatha, I always heard about it as a kid and how good they were in all sports, so to get there and finally be able to be recruited by Morgan Wootten, to see him sitting in the gym and watching me play, it meant a lot to me."
During his junior year, at an open gym, University of Kentucky coach Tubby Smith evaluated Bogans, and liked what he saw. Having won a NCAA championship in 1998 in the first year under Smith, Bogans verbally committed as a junior.
<b>AT KENTUCKY</b>, Bogans had a tough time initially, and wanted to transfer, but with a roster that included current NBA veterans like Tayshaun Prince and Nazr Mohammed, Bogans eventually elected to stay.
"Coach (Smith) told me nothing was going to be given to me, and that I had to work for everything," Bogans said. "For four years, I had to bust my tail — nothing was handed to me. He tore me down and built me back up."
Bogans eventually found his niche, averaging 17 points and 4.6 rebounds as a sophomore. He considered leaving after his junior season but opted to stay for his senior year.
Instead, he led the Wildcats to a 16-0 sweep of the Southeastern Conference and the SEC Tournament title as a senior in 2002-2003. Despite the stellar regular season, Kentucky was eliminated in by Marquette in the Elite Eight, when Bogans suffered a sprained ankle.
Despite leaving Kentucky as the fourth all-time career scorer (1,923 points), critics questioned Bogans' athleticism and how his game would translate to the NBA.
"There were a lot of questions on whether I could play in the NBA," Bogans said. "I knew coming into the NBA that I wouldn't be a scorer. That wouldn't be my ticket. My college coach stuck me down and told me, 'if you want to stick in the NBA, you have to find your niche.'"
<b>AS THE 47th</b> overall pick, Bogans wasn't guaranteed a rookie contract. After getting traded by Milwaukee during the draft, Bogans averaged 6.8 points in 73 games in his rookie season in Orlando. He eventually bounced between Charlotte and Houston, before landing back with the Magic before the 2006-2007 season.
"My goal was to be aggressive and be a great defender. I'm known as a defender. I guard the best player every night so that was my main thing coming in that I wanted to establish myself as something other than a scorer.
This past season, he averaged 8.7 points per game in a career-best 82 games. The Magic finished first in the Southeast Division of the Eastern Conference, with a 52-30 record, before bowing out to Detroit in the conference semifinals.
"We're bringing back essentially our whole team," Bogans said. "We've been together the past three years, I think if we stay together this year, I know definitely we'll be in the Eastern Conference finals at the least."
Which brings Bogans back to the little Alexandria gym where he started honing his lifelong dream. Entering a contract year — he currently makes $2.4 million annually — he's spending a sliver of the summer training at the Boys & Girls Club.
"To come to the place that I dreamed of being an NBA player, as an NBA player is one of the best feelings of my life," Bogans said.