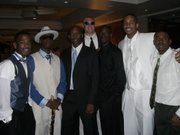 Basketball enthusiasts — even the hardcore fanatics on the southern tip of Route 1 — probably couldn't identify Wells College or Virginia Intermont College on a map. The mascots are obscure at best, and the conference, division and rivals are also likely unknown.
But for three recent West Potomac graduates, the schools will provide an opportunity to play collegiate basketball, even if it doesn't carry the luster of a big-time Division I program.
The Wolverines, who went to the district finals for the first time in 10 years, will send their backcourt of Craig Gaylord and Greg Jones to Wells College, while little-used Delonte McDaniel will play at the NAIA-based Virginia Intermont College in Bristol, Va.
Gaylord was selected as the team's most valuable player, in addition to manning captain duties The 5-foot-7 point guard averaged 12.6 points and 5.7 assists per game as a senior. Despite his small stature, the second-team all-district honoree also grabbed 3.5 rebounds per game, and shot 87 percent from the free throw line.
Jones, the only Wolverine to start every game of the season, averaged 11.2 points and grabbed 4.7 boards per game. The 5-foot-10 shooting guard dished out 2.4 assists per game, and shot 83 percent from the charity stripe.
Both will play for Joe Wojtylko, who will launch the new men's basketball program at Wells in 2008-09.
"I think he got two good guys and talking to coach [Wojtylko], their system is very similar to ours," said West Potomac head coach David Houston.
Wells is a private liberal arts college located in Aurora, N.Y, on the eastern shore of Cayuga Lake, about an hour southwest of Syracuse, N.Y.
The Express will enter the inaugural season as a member of the North Eastern Athletic Conference.
"We are excited and motivated about the challenge of creating a brand new program," Wojtylko said in a press release. "We are recruiting student-athletes that want to be part of history, that want to graduate from a nationally recognized liberal arts school, that want to take pride in having ownership of a new program and be part of something special here at Wells."
Houston, meanwhile, contends that while rare, he's content that two formers players are headed to the same school.
"Basketball isn't always going to be there. Division III isn't the cellar dweller. You are creating history there. [Gaylord] is going in with his shooting guard for the past three years. I think it's a good spot."
<b>McDANIEL HAD A</b> harder time landing a school. With mediocre statistics — he averaged 4.4 points and 4.3 rebounds per game — the 6-foot-6 forward managed to secure his spot on a visit. While playing pick-up during a recruiting trip, Scott Hoagland decided to sign him.
"He's getting a steal. He's got good grades, but his stats weren't that impressive to say, 'hey, we have to go after this guy,'" Houston said. "He's a project where I know that if he dedicates to working at his game, with his length and his size, he can do well."
The Cobras compete in Division II as a member of the Appalachian Athletic Conference.
"The main thing is making sure the guys know it's not over because you can't go Division I," Houston said. "So many guys want to go to Division I only so when they turn everybody else away, they have nothing to do."